The House of Ettehadieh: A Historic Architectural Gem in Tehran
Tehran Province, Tehran, District 12, Lalehzar St, Iran
The House of Ettehadieh, a collection of buildings and courtyards, has stood for approximately 150 years, serving as a testament to ancient Tehran and its inhabitants. Spanning an impressive 9,000 square meters, the historic site is located in the heart of Laleh-Zar Avenue, once known as the Champs-Élysées of Tehran. Originally belonging to Amin-ol-Sultan, treasurer of the Shah of Qajar, the property was used by royalty to entertain foreign guests. It later became the residence of the Ettehadieh family, who migrated from Tabriz over a century ago.
As the Ettehadieh family grew, additional homes were constructed on-site to accommodate new members. Positioned between Ferdowsi and Lalehzar Avenue, two prominent roads in ancient Tehran, the property also played a central role in political movements and gatherings, particularly those of the Tudeh Party. The majority of the site's architecture dates back to the Pahlavi Period, constructed during the reign of Reza Khan. This claim is supported by remnants discovered through archaeological excavations, as well as aerial photographs showcasing the site's prosperous state in the 1940s.
In the 1970s, the house garnered fame as the filming location for the renowned Iranian series 'My Dear Uncle Napoleon,' based on a comic novel depicting various Iranian stereotypes. Since then, it has been commonly referred to as 'The House of Uncle Napoleon.' However, following the 1979 Islamic revolution, the house was left empty as many family members either migrated or moved to new homes abroad.
Recognizing its unique identity and historical significance, the municipality of Tehran purchased the property in 2013 with the intention of restoring and preserving it as a listed building. The restoration process began by unearthing the many layers of history buried over time, enabling the architects to make informed decisions about both restoring the original elements and designing new additions. The intricate plaster and tile work, fireplaces, flooring, and ceilings were meticulously restored to their former glory. Additionally, the excavation revealed the presence of several ponds, artifacts, and even a long-forgotten bathhouse.
Today, the House of Ettehadieh has been reborn as a cultural hub, embracing a new social narrative. The space now features galleries, cafes, an amphitheater, reading rooms, and administration offices, all welcoming the public with open arms. Each area within the house tells a different story, a physical manifestation of time itself. This architectural masterpiece, born as a family residence, has transformed into a house for the city, a symbol of Tehran's rich history and cultural heritage.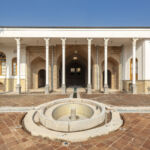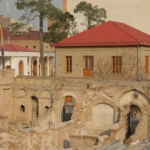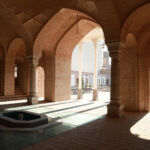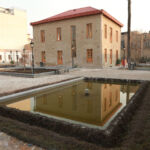 Project's associated companies