Revitalizing Historic Magdalena Mixhuca: Masada Mixhuca Architecture Project
Mexico City, CDMX, Mexico
Located in the heritage area of the ancient town of Magdalena Mixhuca, this project emerges as an architectural spearhead to mark the beginning of housing recycling in the area. Comprising two buildings of 5 and 6 levels respectively, connected by a third element containing the vertical circulation and interconnection between the residential volumes, nine apartments with an area of 90m² each are developed. The design highlights the top apartment of each tower with increased height and a half-level in its public area, covered by a curved slab that serves as the crowning glory of the building. The aesthetic language successfully blends exposed concrete and extruded mud in a contemporary and avant-garde construction, in line with the genre and standards sought for the real estate purpose for which the project was conceived.
The architectural solution for each apartment lies in the creation of functional, comfortable, and spacious spaces. The private area consists of three bedrooms and two full bathrooms, while the public area is equipped with an integrated living and dining room, a kitchen with a breakfast bar, and a laundry room. The project complies with and, at the same time, takes advantage of the regulations of the area. The most significant requirement is the location itself, coinciding with the approach cone to the Mexico City International Airport. This fact restricts the building's height, which became an opportunity to play with split-levels, starting from the parking solution, passing through the difference in levels in all the apartments, achieving greater independence between them, and even attaining higher heights in the upper apartments.
The Masada Mixhuca project, created by the SPS+Sinapsis architectural studio, is a testament to architectural innovation and sustainable urban development. The fusion of contemporary design elements with the preservation of historical heritage creates a unique and harmonious atmosphere in the heart of the Magdalena Mixhuca neighborhood. The project's commitment to recycling and repurposing existing structures sets an example for future urban revitalization efforts.
The careful consideration of space and functionality in the design ensures that the apartments offer a comfortable and practical living experience. The incorporation of three bedrooms and two bathrooms in the private area, along with an open-concept living and dining area, a kitchen with a breakfast bar, and a laundry room in the public area, caters to the modern lifestyle needs of residents. The use of exposed concrete and extruded mud in the architectural elements not only adds a contemporary touch but also pays homage to the traditional building materials of the region.
In conclusion, the Masada Mixhuca project stands as a pioneering architectural endeavor, showcasing the potential of housing recycling and sustainable development. With its innovative design, functional spaces, and adherence to local regulations, this project sets a new standard for urban revitalization. By preserving the historical heritage of the Magdalena Mixhuca neighborhood while embracing contemporary aesthetics, the project creates a harmonious blend of past and present, transforming the area into a vibrant and desirable place to live.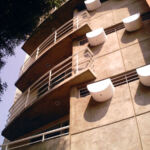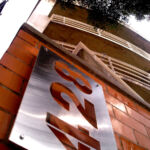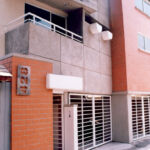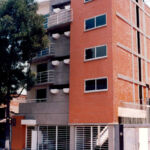 Project's associated companies