Sydney's Endemol Shine HQ Transformed with Wood-Skin Solution
Australia
Located in Sydney, Australia, the headquarters of Endemol Shine Australia underwent a remarkable transformation, thanks to the innovative design approach of Hamilton Projects. Seeking to infuse the space with a touch of style and elegance, Hamilton Projects opted for a WOOD-SKIN solution. The chosen material, an exquisite veneer known as okumè with American oak finish, allowed WOOD-SKIN to create a remarkably thin and visually stunning structure.
Measuring an impressive 5x3.5 meters, the entire structure was conveniently shipped in a compact 1.2x2.5x0.3 meter box. With the help of the incredibly useful instruction manual provided by WOOD-SKIN, a team of three people successfully built and installed the structure in just two days. This efficient process ensured minimal disruption to the daily operations of Endemol Shine Australia, allowing them to swiftly enjoy their new and improved headquarters.
The use of the okumè with American oak veneer not only enhanced the aesthetics of the space but also added a touch of sophistication. The elegant finish exuded a sense of class and refinement, elevating the overall ambiance of the headquarters. This choice of material perfectly complemented the vision of Hamilton Projects, creating a seamless integration within the existing design elements of the space.
The collaboration between Hamilton Projects and WOOD-SKIN showcased the power of innovative architectural solutions. By utilizing the WOOD-SKIN technology, the team was able to achieve a super thin structure that not only provided a visual appeal but also demonstrated the versatility and adaptability of wood as a construction material. This project serves as a testament to the endless possibilities that can be achieved when creativity and technology converge.
In summary, the transformation of Endemol Shine Australia's headquarters in Sydney was successfully executed with the implementation of a WOOD-SKIN solution. The choice of okumè with American oak veneer added a touch of elegance and sophistication to the space. With the help of the comprehensive instruction manual provided by WOOD-SKIN, the structure was efficiently built and installed within a short span of two days. This project exemplifies the potential of innovative architectural solutions to create visually stunning and functional spaces.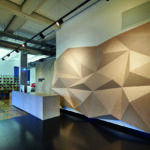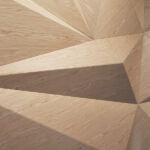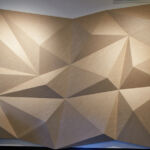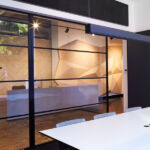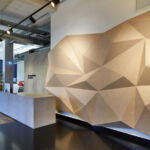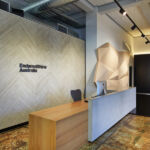 Project's associated companies