Immersive Wood-Skin Architecture at Ballston Point
Houston, TX, USA
Ballston Point, a remarkable architectural project designed by WOOD-SKIN, showcases their innovative Tailor Made technology right from the moment you step foot through its main entrance. Gensler, the renowned architectural firm, has partnered with WOOD-SKIN to create an awe-inspiring canopy that guides visitors into the building. The exterior of the building, made of aluminum with a faux wooden texture, has been meticulously designed to withstand any weather conditions.
Once inside, you are greeted by a stunning interior that features a complex and sinuous three-dimensional surface made from veneered birch. This surface seamlessly sprawls out into the lobby, transforming into a ceiling and then a wall, creating a continuous and flowing wave of wood. The visitor is enveloped in this immersive experience and can find respite on the integrated bench that offers a comfortable place to rest. The wood theme extends further into the building, reaching the elevator area and even the fitness facility.
The incorporation of WOOD-SKIN technology and Tailor Made applications in this installation perfectly exemplifies its potential. In addition to the impressive wooden cladding, WOOD-SKIN worked closely with Gensler on the engineering of the surface, ensuring that every detail was meticulously designed down to the millimeter. This includes seamlessly integrating lighting fixtures and furnishing elements, such as the built-in upholstered bench. The result is not only visually stunning but also a testament to the precision and craftsmanship of the project.
The collaboration between Gensler, WOOD-SKIN, and Washington Woodworking has resulted in a project that goes beyond aesthetics. The Ballston Point project showcases how technology and design can seamlessly merge to create a truly immersive and functional space. The use of WOOD-SKIN's Tailor Made technology has allowed for the creation of a complex and dynamic surface that enhances the overall aesthetic appeal of the building. This project stands as a testament to the endless possibilities that can be achieved through innovative architectural design.
In conclusion, the Ballston Point project, with its exceptional architectural design by Gensler and the integration of WOOD-SKIN Tailor Made technology, is a remarkable achievement. From the moment visitors cross the threshold, they are enveloped in a captivating wave of wood that guides them through the building. The meticulous engineering and attention to detail, in collaboration with Washington Woodworking, have resulted in a space that seamlessly blends aesthetics and functionality. The Ballston Point project exemplifies the potential of WOOD-SKIN technology and its ability to transform architectural spaces into immersive experiences.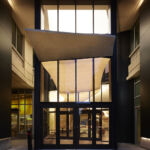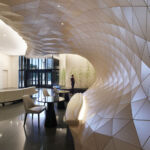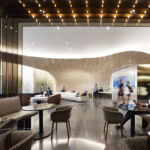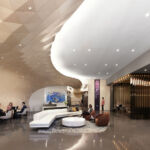 Project's associated companies