Transforming LinkedIn's Madrid Office: A Collaborative Oasis
Spain
Location: Madrid, Spain
Client: LinkedIn
Architects: Il Prisma Studio
Italian architects studio Il Prisma has undertaken the renovation of LinkedIn's headquarters in Madrid, Spain, with the aim of creating bright and collaborative spaces that foster a familial atmosphere. The concept behind the project, "The working solar system," inspired the architects to reimagine the office space and promote interaction among colleagues.
To bring their vision to life, Il Prisma Studio partnered with WOOD-SKIN to design a remarkable feature: a large smart vertical wall that seamlessly transitions into a suspended ceiling and doubles as a counter's shield. This innovative solution not only adds functionality to the workspace but also serves as an eye-catching design element.
The geometrical pattern of the WOOD-SKIN installation was carefully crafted to complement LinkedIn's distinctive graphic and interactive wall. This contemporary reception area was thoughtfully designed and constructed, incorporating cutting-edge technologies to create a visually stunning and engaging space.
By combining their architectural expertise with the versatility of WOOD-SKIN, Il Prisma Studio has successfully transformed LinkedIn's headquarters into a dynamic and collaborative environment. The project reflects the company's values of innovation and interconnectedness, providing employees with an inspiring workplace where they can easily connect and interact.
The renovation of LinkedIn's Madrid office exemplifies Il Prisma Studio's commitment to creating tailor-made solutions that prioritize both aesthetics and functionality. The integration of WOOD-SKIN's innovative technology showcases the architects' ability to think outside the box and deliver exceptional results. With this project, Il Prisma Studio has once again demonstrated their expertise in creating spaces that foster creativity, collaboration, and a sense of community.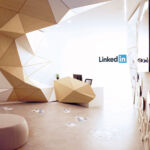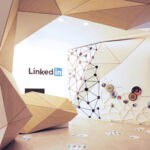 Project's associated companies