Horizon Therapeutics: State-of-the-Art Headquarters Reflecting Brand
Deerfield, IL, USA
Horizon Therapeutics' New Headquarters: The Perfect Reflection of Its Brand
Horizon Therapeutics, a biopharmaceutical company, has recently completed its new U.S. headquarters, designed by the Lamar Johnson Collaborative (LJC) architectural studio. The design team worked strategically and swiftly to ensure that the new space reflected Horizon's brand, incorporated top amenities for its employees, and allowed flexible space for future growth.
The new space celebrates patient care and represents Horizon's rebranding effort. It provides the company's employees with a state-of-the-art facility that accommodates over 500 people with brand-new, advanced furnishings and technology. The workplace program designed by LJC includes a Starbucks coffee shop, full-service cafeteria and café, tech pub, snack pantries on each floor, multipurpose training center, fitness center, game lounge, and an outdoor landscaped terrace. The aim is to attract the best talent and position Horizon as one of the best places to work, which will result in the best possible care for its patients.
A Remarkably Tight Schedule
The renovation project was completed within a tight schedule of ten months, which included 450,000 SF of space. LJC used technology to meet the quick turnaround goal by presenting multiple life fly-throughs using its Building Information Modeling (BIM) model in real-time. This approach allowed Horizon to understand every square inch of the design and walk away with a full contextual understanding of the team's design thinking.
Leveraging Expertise and Experience
LJC leveraged its expertise and experience working with Horizon on its former Lake Forest U.S. headquarters and Dublin, Ireland global headquarters. The existing client knowledge and ability to listen to and adapt to every required program change were crucial in keeping the project on track to meet its record-breaking schedule.
In conclusion, Horizon Therapeutics' new U.S. headquarters is a perfect reflection of its brand and an excellent example of how strategic and rapid collaboration between a design team and a client can result in a state-of-the-art facility that accommodates employees' needs and allows for future growth.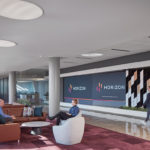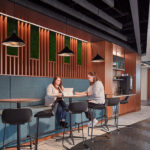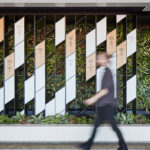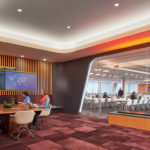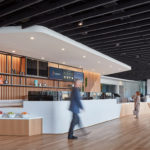 Project's associated companies