Frame in Qom: Achieving Visibility, Privacy, and Ample Lighting | VIRAFORM Architecture
Qom, Qom Province, Iran
Project Name: FRAME
Architecture Firm: VIRAFORM
Firm Location: QOM, ISLAMIC REPUBLIC OF IRAN
Completion Year: 2017
Gross Built Area: 2500 square meters
Project Location: QOM
Lead Architects: REZA JAFARI
Photo Credits: Ali Esmaeili
Clients: Ghasem Rauofi
The FRAME project, designed by VIRAFORM architectural studio, posed a unique challenge of achieving both visibility and privacy while ensuring ample lighting for the spaces. Situated in Qom, Islamic Republic of Iran, the project land is constrained by urban laws, allowing contact with the city from only one direction. To overcome this limitation and establish a connection between the interior and exterior, the concept of the frame was employed as a spatial element.
In this project, each window acts as a frame, providing an opportunity for communication between the inside and outside. By utilizing a volumetric composition of frames, a livable space was defined that serves as an intermediary between the two realms. This in-between space takes the form of a terrace, offering individual apartments their own semi-open areas that connect them to the external surroundings and natural light. The terrace design incorporates light and vision control, enabling the creation of various spatial scenarios. Additionally, a section of the terrace has been thoughtfully designed to prioritize privacy and light control, achieved through perforated windows that allow for distinct compositions of light and shadow while maintaining privacy.
Considering cultural factors and the desire for tranquility, private spaces were strategically placed at the far end of the project land, while more public areas were situated closer to the outer facade. To maximize the penetration of natural light within the building, the interior spaces were organized in a manner that facilitates the optimal flow of light.
Upon entering the lobby, an innovative combination of bricks and mirrors has been employed to not only enhance the incoming light but also extend the outer facade inside. The use of frames in various forms is a recurring theme throughout the project. Some frames extend beyond their boundaries, some are displayed in front, while others emphasize the content within. All three approaches aim to create focal points, capturing moments in life.
The concept of the frame serves as an intermediary space between the inside and outside, generating diverse life scenarios. This composition of frames is also evident in the facade design. Ultimately, the presence of different types of frames, both in terms of materiality and light, offers a range of experiences within the project.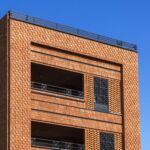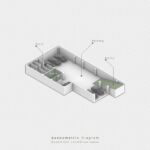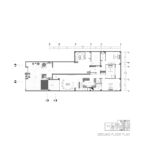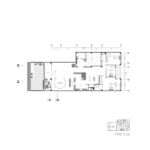 Project's associated companies