Contemporary Elegance in Budapest's Business District: Dunyov Street Office Building by Vincze & László Architects
Budapest, Hungary
The office building is situated in the newly developed business section of Budapest, specifically in the district's Dunyov Street. This modern structure was designed and built by the renowned architectural studio Vincze & László Architects. It features a unique façade with a curtain wall made of white sheet aluminium rizalite frames that conceal structural ridges.
Located at the corner of Váci and Dunyov Streets, the building stands out with its tower-like appearance and arching curtain wall. These architectural elements not only mark the corner location but also emphasize it, creating a visually striking presence. The use of vertical and horizontal rizalite frames adds to the building's distinctive aesthetic.
The property offers a range of amenities to its occupants. On the street level, there are retail shops that provide convenient access to various services and products. Above the shops, the building comprises seven floors dedicated to office use. Additionally, there is a recessed seventh floor that adds to the overall design and functionality of the space. The architects have carefully planned the layout to ensure a seamless integration of office spaces within the building.
Moreover, the office building boasts an underground parking garage spread across two levels, providing ample parking space for both employees and visitors. This convenient feature adds to the overall accessibility and practicality of the property.
The surrounding area of the Dunyov Street project is part of the district's newly developed business section. To the north, there is a block of office and residential buildings, while the eastern side is bordered by an apartment complex. In the south, the buildings of a defunct elevator factory are situated, benefiting from the city's zoning regulations for protection.
The architectural design of the office building on Dunyov Street stands out not only due to its striking appearance but also its careful consideration of functionality and practicality. The combination of retail shops, office spaces, and underground parking garage ensures a comprehensive and convenient work environment for the building's occupants. With its modern and eye-catching features, this project by Vincze & László Architects contributes to the development of Budapest's business district, adding a touch of contemporary elegance to the city's skyline.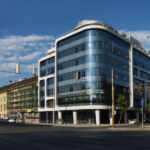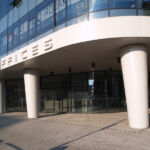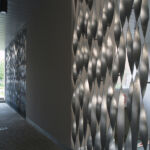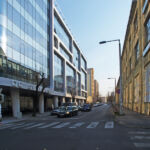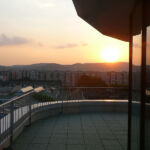 Project's associated companies