Changsha Exhibition Center: Iconic Landmark & Community Hub
Tongzhou, Beijing, China
The Changsha Exhibition Center stands as a prominent commercial development within a newly established business district adjacent to the High-Speed rail line that connects Changsha to Beijing. This impressive exposition center, designed by Kane A|UD architecture and urban design, aims to become a significant landmark for Changsha, engaging the Liuyang river and offering a warm welcome to both visitors and residents through its open plazas.
More than just a commercial hub, this exhibition center aspires to be a thriving community center and a must-visit destination. It also prioritizes its environmental responsibility and aims to foster a harmonious relationship with its neighbors. At the heart of the project lies a striking floating roof canopy, which not only creates a visually stunning horizon along the river but also fosters a cooler microclimate around the building. This thoughtful design ensures that the expansive plazas can accommodate year-round indoor and outdoor exhibitions and fairs comfortably.
The program of the Changsha Exhibition Center includes a 100,000-square-meter exhibition hall, a 5,000-seat congress hall, a 2,500-seat theater, conference meeting rooms, a cafeteria, a VIP meeting hall, and a business center. With such versatile spaces, the center will be capable of hosting a wide range of events, from trade shows and conferences to theatrical performances and cultural gatherings.
Spread across an area of 200,000 square meters, this competition-winning project by Kane A|UD architecture and urban design is poised to transform Changsha's landscape. By integrating seamlessly with the High-Speed rail line and incorporating sustainable design elements, the Changsha Exhibition Center embodies the city's vision for progress and innovation.
Overall, the Changsha Exhibition Center is set to become a remarkable addition to the city's architectural landscape. With its striking design, commitment to community engagement, and environmental responsibility, it promises to be both a symbol of Changsha's growth and a hub of activity for residents and visitors alike.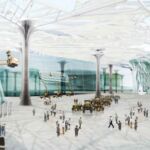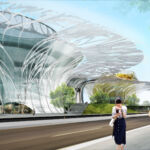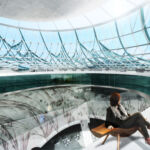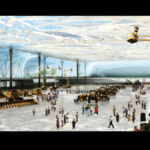 Project's associated companies