Transformed 1950's Split-Level Home: Butterfly House Renovation
Englewood, NJ 07631, USA
Renovation Transforms 1950's Split-Level Home into Light-Filled Sanctuary
The Butterfly House project, undertaken by the esteemed architectural firm Robert Gross Architect, has breathed new life into a 1950's split-level home. What was once a compact and dimly lit interior layout has been magically transformed into a warm and open space flooded with natural light. The renovation also boasts the addition of a breathtaking upper-level master and guest suite wing, offering stunning views of the surrounding tree-lined landscape.
To enhance the exterior aesthetic, the architects opted for Northern White Cedar plank siding with custom ribbed profiles. This choice not only adorned the new wing but also replaced the outdated scalloped wood siding, bringing a modern touch to the entire structure. The existing base-level brick was thoughtfully preserved, maintaining a harmonious blend of old and new.
One of the standout features of this renovation is the creation of a striking double-height entry hall. This space serves as the heart of the home and is crowned by a unique reverse-sloped "butterfly" roof. The cleverly angled design captures an abundance of natural daylight, which permeates the house through strategically placed skylights. This innovative approach ensures that sunlight floods the interior, creating a warm and inviting atmosphere throughout.
Not only does the Butterfly House project prioritize aesthetics, but it also embraces functionality. The thoughtful design allows for a seamless flow between the various living spaces, providing a sense of freedom and openness. The master and guest suite wing, with its panoramic views of the lush surroundings, offers a tranquil and private retreat for both homeowners and guests alike.
In conclusion, the Butterfly House project by Robert Gross Architect has successfully transformed a compact and dark 1950's split-level home into a light-filled sanctuary. The use of Northern White Cedar plank siding and a reverse-sloped "butterfly" roof showcases the architect's attention to detail and commitment to modern design. This renovation breathes new life into the property while preserving its original charm. The result is a warm and inviting environment that seamlessly blends indoor and outdoor living spaces, providing an idyllic retreat for its lucky inhabitants.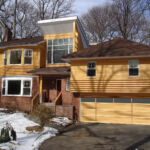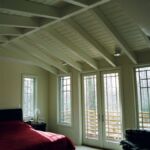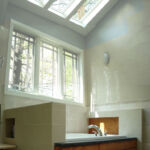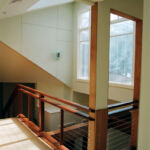 Project's associated companies