Brunsfield North Loop Apartments: Modern Design in Historic Minneapolis
Minneapolis, MN, USA
Brunsfield North Loop Apartments: A Unique Residential Project in Downtown Minneapolis
Located at the edge of downtown Minneapolis, in the Historic Warehouse District, Brunsfield North Loop Apartments is a one-of-a-kind residential project designed by Snow Kreilich Architects. The project seamlessly blends into the neighborhood's historic and urban context while maintaining a modern and contemporary look to attract tenants in an extremely competitive rental market.
A Modern Facility with Contextual Massing and Materiality
Brunsfield North Loop Apartments is a 50-unit residential apartment building with a mix of studio, 1 bedroom, 1+ bedroom, and 2 bedroom units. The building also has mixed-use commercial spaces available at street level and a conditioned 50-stall underground parking garage. The project's massing and materiality were carefully considered to address the context of the North Loop Neighborhood while standing out as a unique and modern facility.
Amenities for Residents
The architects worked closely with the developer to identify important amenities for residents within the project's historic and urban context. Brunsfield North Loop Apartments offer a range of amenities, including vegetable gardens, bike cleaning and workstations, a pet cleaning room, a fitness center, and a shared public lounge space. These amenities are all supported by a richly landscaped site and courtyard, linking the project to the vibrant and historic neighborhood.
A Perfect Blend of History and Modernity
Brunsfield North Loop Apartments is a perfect blend of history and modernity. The project's design beautifully reflects the neighborhood's historic context while incorporating modern elements that appeal to today's renters. The building's unique design, careful attention to detail, and range of amenities make it a highly desirable place to live in Minneapolis.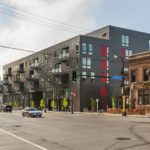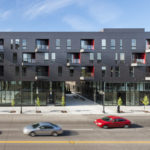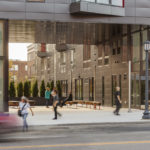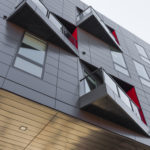 Project's associated companies