Luxurious Bloomfield Hills Residence: Unique Architecture and Meticulous Design
Bloomfield Hills, MI 48304, USA
The Bloomfield Hills Residence, located in Bloomfield Hills, MI, is a stunning single-family home spanning an impressive 10,400 square feet. Designed by the renowned architectural firm MPdL Studio, this residence was tailor-made for a young family in search of a home that seamlessly blends unique architecture and meticulous interior design. With a strong focus on high-end aesthetics and healthy living, every aspect of this home has been carefully customized to suit the family's lifestyle.
The attention to detail in this project is truly remarkable. MPdL Studio paid special attention to elements such as detailed brickwork, glass walls, millwork, and cabinetry. The exterior boasts a combination of Endicott dark ironspot brick, stucco, cypress windows and trim, and a slate roof, creating a visually striking facade. Inside, the use of materials such as bluestone and walnut floors, knotty oak, and milk painted maple cabinetry further enhances the luxurious feel of the residence.
Not only did MPdL Studio handle the architectural design, but they also curated every aspect of the interior. This included selecting all furnishings, light fixtures, table settings, and even the artwork. Additionally, the studio custom-designed key furniture pieces to elevate the overall design. For instance, the dining room features a hand-carved walnut wood table that can comfortably seat up to sixteen people, while the bar area showcases a stunning walnut butcher block counter and frosted bronze glass shelves.
One of the standout features of this residence is the wooden staircase in the entryway. Every detail of this staircase has been meticulously customized, from the unique alignment of the vertical seams to the design of the treads on the ground. The wood and metal handrails add a touch of elegance, creating a grand entrance for the home. Airy curtains adorn the walls, gracefully turning corners and complementing the overall architectural design of the space.
The kitchen and family room have been cleverly designed as an open space, perfect for an active family. Ample storage, comfortable furniture, and expansive views of the backyard, which includes an outdoor pool, cabana, and custom play structures for the children, make this area both functional and aesthetically pleasing.
Overall, the Bloomfield Hills Residence is a testament to the exceptional craftsmanship and attention to detail of MPdL Studio. This home showcases the perfect blend of unique architectural elements and meticulous interior design, resulting in a truly remarkable living space for the young family who calls it home.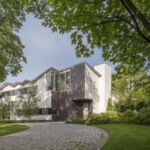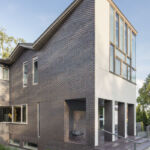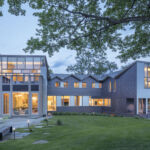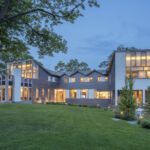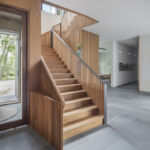 Project's associated companies