Napeague Harbor Beach Bungalow: A Coastal Haven Revived
Napeague, NY, USA
A charming beach bungalow nestled on the sandy shores of Napeague Harbor in Long Island, NY has been a steadfast guardian of its own stretch of shoreline since 1948. However, this humble abode received a new lease on life in early 2010 when it was acquired by a new set of owners. Eager to restore the bungalow to its former glory just in time for the upcoming summer, the owners embarked on a comprehensive renovation project.
The first phase of renovations involved a complete overhaul of the bungalow. Every nook and cranny was meticulously attended to, with the substructure, plumbing, and electrical services being replaced. Additionally, the house was adorned with new cedar roof trusses, which elegantly frame the raised ceilings. The flooring was also upgraded to beautiful maple, breathing new life into the 800-square-foot space.
Despite its compact size, the bungalow was designed with efficiency in mind. The long open-plan layout floods the interior with an abundance of natural light, creating a warm and inviting atmosphere. This versatile space cleverly combines the kitchen, dining area, bathroom, and living room. Adjacent to the main living area, two bedrooms were crafted, each accompanied by loft spaces that provide additional functional areas.
As the second phase of the renovation project commences, there are plans to expand the footprint of the bungalow. This expansion will further enhance the living space and ensure that the bungalow can comfortably accommodate a growing family. The anticipated completion date is set for summer 2011, just in time for the family to return to their cozy retreat and enjoy the allure of the beach once again.
Renowned as a kite-surfer's paradise, the sandy beach surrounding the bungalow offers endless opportunities for outdoor recreation and relaxation. The family is undoubtedly looking forward to immersing themselves in the tranquil coastal atmosphere, making lasting memories against the backdrop of the breathtaking Napeague Harbor.
The Fractal Group, an esteemed architectural studio, has successfully breathed new life into this beach bungalow project. With a keen eye for detail and a commitment to preserving the bungalow's historical charm, they have transformed it into a cozy haven that perfectly captures the essence of beachfront living. The bungalow's story is a testament to the transformative power of renovations and the enduring allure of coastal living on Long Island.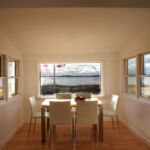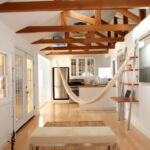 Project's associated companies