Revitalizing the Mid-Century Charm: Balsam Residence Renovation
Boulder, CO, USA
The Balsam Residence, a mid-century home constructed in 1968, had long been waiting for a breath of fresh air. Untouched for decades, its owners were eager to revitalize its appearance and create a more inviting and light-filled interior. With the help of the talented architectural studio, bldg.collective, this ambitious renovation not only succeeded in giving the exterior a much-needed facelift, but also in embracing the home's mid-century charm.
Preserving the essence of the original house was a key objective for the project. The design team approached the renovation with great care, ensuring that the mid-century qualities of the home were maintained throughout. By incorporating various design elements that paid homage to the era, they successfully blended the old with the new.
One of the most striking features of the Balsam Residence is the warm tones of the exposed wood beams in the kitchen and living room. These beams extend beyond a wall of glass doors, seamlessly connecting the interior spaces with the captivating outdoor surroundings. The use of natural materials not only enhances the connection to nature but also adds a touch of organic beauty to the overall design.
To strike a perfect balance between contemporary aesthetics and the home's original features, the material palette was thoughtfully chosen. The kitchen, with its sleek matte-black and raw-steel finishes, creates a modern and sophisticated atmosphere. Simultaneously, the existing brick fireplace, which was a central element of the original house, adds a touch of rustic charm and serves as a reminder of the home's rich history.
The renovation of the Balsam Residence was a labor of love, and the result is truly breathtaking. The owners' desire to breathe new life into this mid-century gem has been fulfilled with careful attention to detail and a commitment to honoring the home's architectural heritage. The renovated home not only boasts a rejuvenated exterior but also embraces light, nature, and the magnificent views of the Flatirons.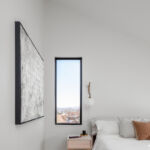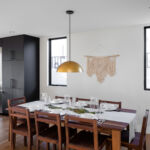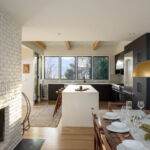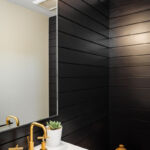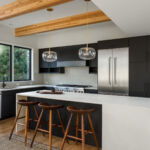 Project's associated companies