Seamless Integration: Arreletes Day Care Center by XVSTUDIO
Lleida, Spain
The Arreletes Day Care Center, designed by the XVSTUDIO architectural studio, is situated on the outskirts of town, nestled between the urban and rural landscapes. Its strategic location, adjacent to the sole road leading in and out of the village, grants easy access for parents and caregivers. The nursery is surrounded by a vibrant sports area, an orchard earmarked for future transformation into a plaza, and a gentle slope that acts as a natural divide between the residential area and the countryside.
The project comprises two distinct volumes, each serving a unique purpose. The lower volume houses the classrooms and a charming courtyard, which takes inspiration from the existing agricultural wall and aligns itself with the neighboring fields. In perfect harmony with its surroundings, this volume pays homage to the agricultural heritage of the region. On the other hand, the upper volume accommodates the teachers' offices, positioned to overlook both the village houses and the bustling children's courtyard. This clever arrangement ensures a seamless connection between the educators and their young charges.
The design of the Arreletes Day Care Center reflects the personal experiences and cherished memories of childhood. The architects' recollections of orchards teeming with fruit trees, tranquil shaded spaces, and meticulously organized greenery have found physical expression in the classroom volume. The spaces within the nursery are versatile and continuous, allowing for flexibility in their use. The lobby and the first classroom, for instance, can be effortlessly transformed into a dining hall, catering to the various needs of the children and staff.
One of the standout features of the design is the controlled lighting that pervades the interior spaces. The classrooms, connected to the courtyard via a changing room, benefit from an exceptional eastward orientation. A horizontal window, perched atop the natural slope, bathes the classrooms in gentle morning light. Additionally, a captivating pixelated image of a cluster of leaves adorns the interior corridor, diffusing soft, filtered light from the west. This thoughtful play of light and shadow creates an inviting and stimulating atmosphere for the young learners.
In summary, the Arreletes Day Care Center, conceived by XVSTUDIO, is a testament to the architects' profound understanding of the site and their heartfelt connection to their own childhood memories. The design seamlessly integrates the nursery into its surroundings, paying homage to the region's agricultural heritage. The versatile spaces, bathed in controlled lighting, provide an ideal environment for children to learn and grow. With its striking aesthetics and functional layout, the Arreletes Day Care Center stands as a testament to the power of thoughtful design in early childhood education.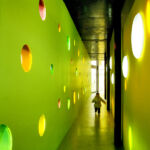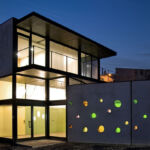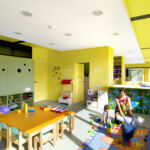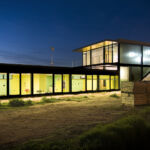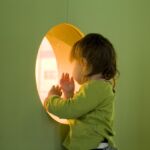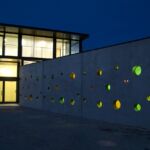 Project's associated companies