Sophisticated Elegance: Accuracy's Striking Headquarters on Avenue Matignon
Paris, France
Accuracy, a highly esteemed financial advisory firm, has enlisted the expertise of Atelier Flow to construct its brand new 3,000 m² headquarters on the illustrious Avenue Matignon in Paris. The company had a specific vision in mind, aiming to create a space that exuded sophistication while also being warm and inviting for both clients and staff. With a meticulous attention to detail in the design, incorporating unique shapes and material combinations, Accuracy sought to create a visually striking environment that embodied their corporate identity.
The collaboration between Accuracy and Atelier Flow has resulted in a stunning integration of concrete, metal, white marble, and printed glass throughout the headquarters. These materials seamlessly blend together to form a harmonious aesthetic that represents the company's commitment to excellence. One standout feature is the wave ceiling, which has been meticulously crafted using WOOD-SKIN in veneered Okoume. This innovative design element not only adds a touch of elegance but also serves a functional purpose.
Hidden beneath the fluid and simplistic shape of the ceiling lies a detailed and precise parametric study. This study ensures that natural lighting and air ventilation systems are seamlessly integrated into the design. What appears to be a seamless surface actually contains carefully positioned holes and inspection hatches, which seamlessly blend with the sinuous form. These elements become simultaneously visible and invisible, adding to the overall allure of the space.
Atelier Flow, the architectural studio responsible for the WOOD-SKIN design, has successfully brought Accuracy's vision to life. The result is a headquarters that perfectly encapsulates the company's identity, while also providing an environment that is inviting and conducive to productivity. With their commitment to excellence and attention to detail, Accuracy has created a space that is sure to leave a lasting impression on all who enter.
In summary, Accuracy's collaboration with Atelier Flow has yielded a remarkable headquarters on Avenue Matignon in Paris. By incorporating a unique blend of materials and utilizing the innovative WOOD-SKIN design, Accuracy has successfully created a visually striking space that reflects their corporate identity. This project showcases their commitment to excellence and attention to detail, making it a truly remarkable feat in architectural design.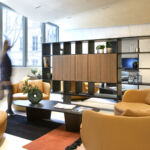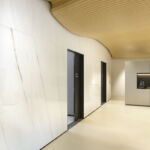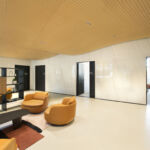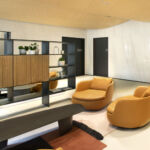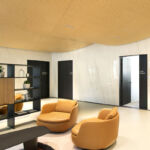 Project's associated companies