448 N LaSalle: A Striking Addition to Chicago's River North
Chicago, IL, USA
Lamar Johnson Collaborative's 448 N LaSalle: A Striking Addition to Chicago's River North Neighborhood
Lamar Johnson Collaborative, an architectural studio known for its timeless approach to design, has created a stunning new structure in Chicago's vibrant River North neighborhood. The 448 N LaSalle building, with its striking charcoal-black mullions and sleek exterior, is a natural addition to the area's urban landscape.
The 7,300 SF entry is an impressive concierge space for transit-served tenants, with options for convenient retail services within the handsome, efficient interior. The entry welcomes tenants and visitors with a stylish entry beneath a dramatic partially cantilevered overhang on the east elevation. The nearly floor-to-ceiling glass provides abundant daylight and expansive views, bringing energy and delight to the interior.
The modern urban aesthetic is carried throughout the building's common spaces, such as the retail and concierge entry level, which is appointed in metal, concrete, and steel. The rooftop amenity deck offers tenants a private lounge, quiet room, fitness center, and a furnished penthouse great room with a kitchen. With an open-air deck and wind screens, the rooftop is perfect for taking in the stunning views of the city. Tenant floorplates are efficient for planning interior office space thanks to the ideal 5' curtainwall module, generous open spans, and offset core.
The Lamar Johnson Collaborative's planning development for the 448 N LaSalle project is apparent in its successful solutions to pre-construction challenges. Extensive planning ensured that interior sightlines were maximized, and appropriate access to city streets and alleyways was accommodated. The benefits of this planning development were achieved in just 13 months, 30 days ahead of its original construction schedule, despite the unforeseen challenges posed by the COVID-19 pandemic.
In conclusion, Lamar Johnson Collaborative's 448 N LaSalle building is a striking addition to Chicago's River North neighborhood. Its sleek, modern exterior and efficient interior spaces make it an ideal location for transit-served tenants and visitors alike. The success of this project is a testament to the architectural studio's timeless approach to design and their ability to overcome pre-construction challenges.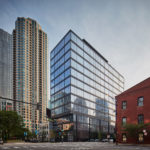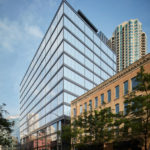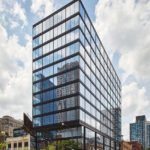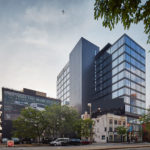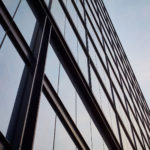 Project's associated companies