Experience Suburban Oasis at Ruby Ridge House - Award-Winning Design
Wānaka, New Zealand
Introducing the Ruby Ridge House: A Suburban Oasis
Nestled in the beautiful alpine town of Lake Wanaka, the Ruby Ridge House is a sight to behold. Designed by the Condon Scott Architects studio, this expertly crafted solution stands out as something very special indeed. With a bold mask to the suburban street, this house leaves all the pleasure for the people who reside within its walls.
A Dynamic Design That Stands Out
Situated on a challenging, wedge-shaped site that borders two suburban streets, the Ruby Ridge House boasts a simple, mono-pitched roof and curve-edged, cedar-clad walls. The dynamic design directs the observer's view towards the alpine panorama ahead, allowing the homeowners to enjoy their space without the sense of being overlooked. Two types of cedar cladding, with a dark and a warm stain, accentuate the lines of the windows and roof, while boardform concrete contrasts with the timber, creating a visually stunning contrast.
A Private Haven for All Seasons
The living space in the Ruby Ridge House is configured around courtyards that are sheltered, private, and flow seamlessly from the interiors. Linked through stacking aluminum sliders, these courtyards are an extension of the living space and can be enjoyed year-round, with a boardform concrete outdoor fireplace for cooler nights. The front deck also flows easily from the living area, with the French oak floorboards appearing to merge with the Kwila decking. Living spaces and bedrooms are located in the sun-soaked northern wing of the house, where the view is at its best. In the southern wing, the architect has located the garaging, guest bunkrooms, and ancillary spaces, providing a private haven for all seasons.
Award-Winning Design
The Ruby Ridge House has been recognized for its outstanding design, winning a Housing Award at the 2020 NZIA Southern Architecture Awards and being shortlisted for a National Housing Award at the 2020 NZIA New Zealand Architecture Awards. It was also a finalist for a Residential Award at the 2020 DINZ Best Design Awards and a Consultant Category Award at the 2020 NZIOB Awards. With its bold and dynamic design, expert craftsmanship, and stunning use of materials, it is no wonder that the Ruby Ridge House has received such high accolades.
In conclusion, the Ruby Ridge House is a true masterpiece of design and craftsmanship, providing a private oasis for its residents to indulge in the stunning views and natural beauty of Lake Wanaka. With its dynamic design, use of materials, and attention to detail, it is no surprise that this house has received such high praise from the architectural community.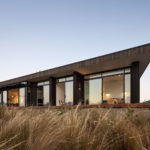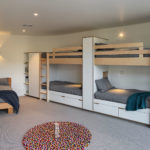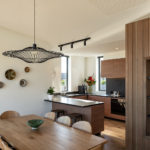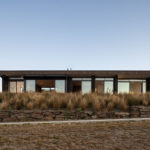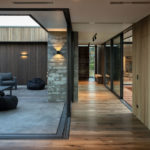 Project's associated companies