Inclusive and Adaptive Design: River Dell Middle School LLD-Autism Classroom Solution by Solutions Architecture
River Edge, NJ, USA
The River Dell Middle School LLD-Autism Classroom project was developed by the renowned architectural studio, Solutions Architecture. The project involved the conversion of a 1,400 square foot early childhood classroom into a specialized learning space for students with autism. The primary aim of this conversion was to create a multi-functional environment that not only offered optimal supervision but also provided flexibility to accommodate various instructional activities.
One of the key design elements incorporated into this space was the use of rubberized flooring. This flooring not only offers protection from falls but also provides a safe and comfortable surface for the students. Additionally, the designers opted for soft tones and warm colors throughout the room. This deliberate choice aims to create an inviting and soothing atmosphere, minimizing distractions and allowing the students to focus on their learning.
To cater to the diverse instructional needs of the students, a dividing partition was installed, effectively creating three distinct areas within the classroom. The first area is the General Classroom, where students engage in academic lessons and group activities. The second area is the Socialization space, which encourages social interaction and fosters the development of crucial communication skills. Lastly, an Occupational and Physical Therapy area is provided, equipped with specialized equipment to support the students' motor skills development.
Recognizing the importance of life skills training, the architects also included a Kitchenette/Life Skills area within the classroom. Here, students can learn and practice essential skills related to cooking, cleaning, and daily routines. Additionally, a separate Toilet/Life Skills Area was designed to facilitate training in personal hygiene and bathroom etiquette.
Finally, the LLD-Autism Classroom project incorporates a quiet room. This space offers students the opportunity to engage in one-on-one interactions with their teacher or seek solace when they need a break from the activities in the main classroom. This designated area ensures that each student's individual needs are met and allows for personalized attention and support.
In conclusion, the River Dell Middle School LLD-Autism Classroom project, conceptualized by Solutions Architecture, exemplifies the careful consideration given to creating an inclusive and accommodating learning environment. By combining safety features such as rubberized flooring with a soothing color scheme, the designers have succeeded in providing a space that promotes optimal supervision and minimizes distractions. The various instructional areas, including the General Classroom, Socialization space, and Occupational and Physical Therapy area, cater to the diverse needs of the students. Moreover, the inclusion of life skills areas and a quiet room further enhances the functionality and adaptability of this exceptional classroom conversion.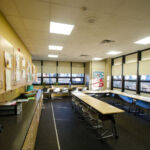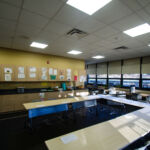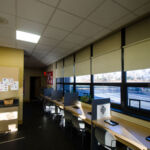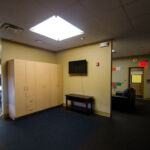 Project's associated companies