Residencial Hares: Redefining Urban Living with Visionary Architecture
Residencial Hares: A Visionary Architectural Masterpiece by VFO Arquitectos
Residencial Hares, a remarkable architectural project brought to life by the renowned VFO Arquitectos architecture studio, epitomizes the perfect blend of modernity, functionality, and aesthetic appeal. Situated in a prime location, this residential complex aims to redefine contemporary urban living, offering its residents a harmonious and luxurious retreat in the heart of the city.
Designed with meticulous attention to detail, Residencial Hares showcases a distinctive architectural style that seamlessly integrates with its surroundings while standing out as a true testament to innovative design. The studio's commitment to sustainability is evident throughout the project, as it incorporates eco-friendly materials and energy-efficient systems. This environmentally conscious approach not only minimizes the ecological footprint but also enhances the comfort and well-being of its residents.
The complex comprises thoughtfully planned residential units that cater to diverse lifestyles and needs. From cozy apartments to spacious penthouses, Residencial Hares offers a wide range of living options, ensuring there is a perfect match for every discerning individual or family. The interiors boast a perfect balance of functionality and elegance, featuring open-concept layouts, high-quality finishes, and abundant natural light. Each living space is meticulously crafted to provide a serene sanctuary where residents can unwind and rejuvenate.
Beyond the individual residences, Residencial Hares offers an array of amenities that enrich the communal living experience. With lush landscaped gardens, a state-of-the-art fitness center, and a sparkling swimming pool, residents can indulge in a variety of recreational activities without ever leaving the premises. Additionally, the project incorporates dedicated spaces for social gatherings and events, fostering a strong sense of community and promoting meaningful connections among the residents.
In summary, Residencial Hares represents a visionary architectural masterpiece that redefines urban living. With its innovative design, eco-consciousness, and luxurious amenities, this project by VFO Arquitectos offers a truly exceptional living experience. Residencial Hares is a testament to the studio's commitment to creating spaces that not only inspire but also enhance the lives of its residents.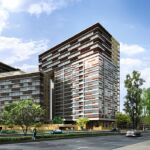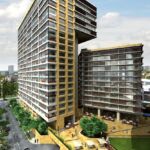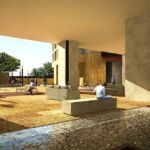 Project's associated companies