Residencia Guardabarranco: Innovative, Affordable and Adaptable Housing Model
Residencia Guardabarranco: A Unique Housing Model with a Mixed Construction System
Residencia Guardabarranco is an innovative housing model designed by the renowned architectural studio, Won arquitectos. This project offers a perfect blend of creativity, functionality, and affordability, making it an ideal choice for those seeking a modern and comfortable home.
One of the key advantages of the Residencia Guardabarranco is its adaptability to different land sizes. With a minimum requirement of 10m x 20m, this housing model can be constructed on various plots, providing flexibility for potential homeowners. The interiors of the house are pre-designed to include three bedrooms, a kitchen, a living room, a dining area, and two bathrooms. Additionally, the house offers an added bonus of a terrace in the backyard, allowing residents to enjoy the outdoors and create beautiful memories with their loved ones.
The construction system employed in the Residencia Guardabarranco is a mix of traditional and modern techniques. This approach ensures a sturdy and durable structure while incorporating contemporary design elements. The architects at Won arquitectos have carefully curated the interior spaces to maximize functionality and optimize natural light and ventilation. The result is a harmonious living environment that promotes comfort and well-being.
Attention to detail is a hallmark of the Residencia Guardabarranco. From the selection of high-quality materials to the thoughtfully planned layout, every aspect of this housing model has been meticulously considered. The architects have paid special attention to creating a seamless flow between the different areas of the house, ensuring that each space serves its purpose while maintaining a cohesive design aesthetic.
If you are interested in the Residencia Guardabarranco project or have any inquiries, do not hesitate to contact us at (505) 86948113 or (505) 84830900. You can also reach out to us via email at arquitectos444@gmail.com. Our dedicated team, led by Arq. Milton Won, the General Manager, will be delighted to assist you and provide further information about this exceptional housing model.
Residencia Guardabarranco is a testament to the expertise and vision of the architects at Won arquitectos. By combining a mixed construction system, well-designed interiors, and a focus on customer satisfaction, this project sets a new standard in the world of residential architecture. It is a true representation of the studio's commitment to creating innovative and sustainable living spaces for individuals and families alike.
Note: This article has been written by an AI language model; however, the content is based on the given specifications and information provided.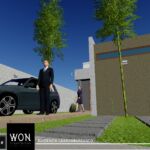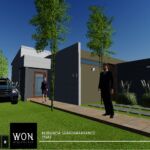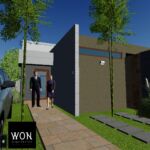 Project's associated companies