Contemporary Ranch Style Home Renovation in London, Ontario
The 1950's ranch style home in London, Ontario has undergone a complete redesign, thanks to the innovative work of Zedd Architecture. The project involved extensive interior alterations, resulting in a contemporary open plan that seamlessly blends modernity with classic charm. The renovation encompassed updates to all materials and fixtures, including the installation of stunning rift cut walnut floors, exquisite porcelain tiles imported from Spain, and a sleek Scavolini kitchen. The addition of extensive lighting and controls further enhanced the overall ambiance of the space.
Originally constructed in the early 1950s, the ranch home had undergone an addition in the 1980s. However, the passage of time necessitated a comprehensive overhaul to bring the residence up to date. Zedd Architecture undertook the task of relocating walls and reconfiguring room sizes to create a more spacious and cohesive floor plan. This strategic redesign not only opened up the space but also improved circulation throughout the home. Furthermore, new mechanical and electrical systems were installed, ensuring optimal functionality and efficiency.
Additionally, the exterior windows and doors were updated to enhance both the aesthetic appeal and energy efficiency of the home. As part of the renovation process, two new fireplaces were added, further contributing to the overall warmth and comfort of the space. The result is a clean yet inviting contemporary interior that perfectly suits the homeowners' tastes and preferences.
Zedd Architecture's meticulous attention to detail and expert craftsmanship shines through in this stunning renovation project. The fusion of timeless materials, such as the rift cut walnut floors, with sleek and modern fixtures creates a harmonious balance. The use of porcelain tiles from Spain adds a touch of elegance and sophistication to the space. The Scavolini kitchen, renowned for its quality and style, serves as the centerpiece of the home, effortlessly blending practicality with aesthetics.
In conclusion, the complete redesign of this 1950's ranch style home in London, Ontario showcases the transformative power of thoughtful interior renovations. Zedd Architecture's expertise in reconfiguring room sizes, improving circulation, and updating materials and fixtures has resulted in an inviting and contemporary open plan. The incorporation of high-quality materials, including rift cut walnut floors and porcelain tiles from Spain, along with the addition of a Scavolini kitchen, has elevated this home to new heights of modern luxury.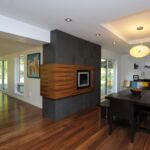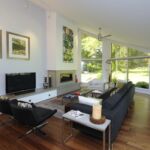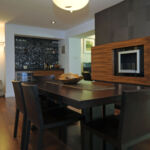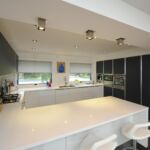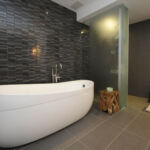 Project's associated companies