PL House: Inspiring Architecture Seamlessly Integrating Indoor and Outdoor Spaces
Piura, Peru
The PL House project, located in Piura, in the North of Peru, was conceived with the unique shape of the lot in mind. Spanning an impressive 4,000 square feet, this residential home seamlessly integrates with its exterior surroundings through the use of sliding doors that open up the common spaces to a stunning courtyard. Upon entering the house, one is immediately struck by the sensation of being outdoors while still inside.
The ground floor of the house is completely open to the expansive courtyard, which features a rectangular pool at its center, encircled by a beautiful wooden deck. This clever design allows for a smooth transition between the interior and exterior spaces. The front façade of the house boasts intriguing high windows that not only ensure privacy but also promote cross ventilation on the ground floor.
A floating second-floor volume, strategically positioned to avoid contact with adjacent structures, was carefully placed based on a thorough analysis of the sun's movement. This floor houses the main sleeping areas, which can be accessed via a concrete cantilever staircase enveloped in wood. This unique staircase emerges from the main concrete wall of the residence. At the top of the stairs, one is greeted by a floor-to-ceiling window that floods the space with natural light and offers a breathtaking view of the courtyard.
To ensure a seamless flow within the residence, a spacious two-car open garage was located between the service area in the north wing and the kitchen/pantry section of the house. This placement creates a subtle and natural separation between these two areas.
Taking into consideration the contextual environment of this Peruvian city, the architects at AI2 Design selected a modest palette of materials. White stucco was chosen to accentuate the volumetric design of the house, while natural wood was used to create a warm and cozy ambiance. To tie these two finishes together, a gray concrete transitional material was incorporated.
The PL House project is a testament to the harmonious integration of architecture and nature. Through thoughtful design choices and meticulous attention to detail, the architects at AI2 Design have created a residential masterpiece that seamlessly combines indoor and outdoor living spaces, providing a unique and inspiring living experience for its inhabitants.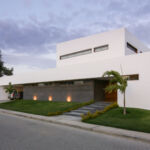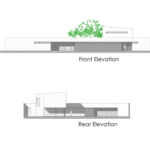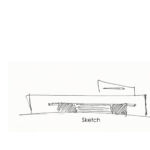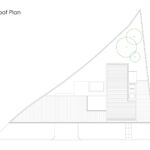 Project's associated companies