Renovate and Expand: Ping Pong Porch II Redefines Sustainable Living
Ann Arbor, MI, USA
KASE Studio, a renowned architectural studio, has recently unveiled their latest project, the Ping Pong Porch II. This innovative design showcases how homeowners in booming real estate markets can opt for renovation and expansion instead of buying a larger house and moving. By choosing to grow in place, families can not only save money but also contribute to a more sustainable future by reducing construction waste and urban sprawl.
The Ping Pong Porch II project was undertaken by a young professional family with two children. In Phase I, a 600 square foot addition was made, along with upgrades to the building envelope and renovation of the existing mid-twentieth century home. The main focus of this phase was to create a living space that fosters family interaction and guest entertainment, centered around the kitchen and dining area. To achieve this, a structural exterior wall was replaced with a concealed steel beam, connecting the reconfigured kitchen with the new sunroom and lounge. The addition of large operable apertures on the east and south sides allows for ample natural light and passive cross-ventilation, creating a bright and airy atmosphere. Additionally, the office space features an exposed structural ceiling and integrated LED lighting, providing a flexible and spacious working area.
Phase II of the project involved extending the living space into a semi-interior volume that rises towards adjacent trees, creating the perfect setting for a friendly ping pong match. The design of this extension complements the existing building form with a sloped roof, offering a visual pause for more intimate activities such as dining and conversation while enjoying the morning sunrise. To differentiate this extension from the rest of the house, a sensorial material palette of western red cedar and weathering steel was used. The cedar not only adds a rich aroma to the space but also ages beautifully, creating ever-changing patterns as it interacts with different lighting conditions.
The Ping Pong Porch II project by KASE Studio exemplifies how homeowners can achieve their desired living space without having to uproot their family and move. By opting for renovation and expansion, families can save money and contribute to a more sustainable future. This project showcases the successful integration of functional design elements, such as open living spaces and ample natural light, with aesthetic elements like the use of cedar and weathering steel. KASE Studio's innovative approach to growing in place sets an example for other homeowners facing similar challenges in booming real estate markets.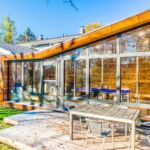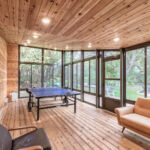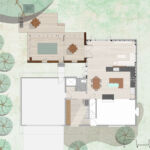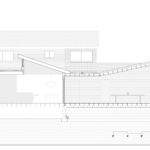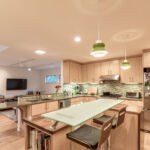 Project's associated companies