BGC Condominium: Innovative, Sustainable, Luxurious Living
Zhen Architecture + Construction, a renowned architecture studio, presents their latest masterpiece in the bustling metropolis of Manila, Philippines - the Bonifacio Global City Condominium. This visionary architectural project embodies the essence of modern living, seamlessly integrating functionality, sustainability, and aesthetic appeal. With its prime location in the vibrant Bonifacio Global City district, this condominium promises to redefine luxury living for its discerning residents.
The Bonifacio Global City Condominium is a testament to Zhen Architecture + Construction's commitment to innovation and excellence. The design philosophy behind this project revolves around creating a harmonious blend of contemporary architectural elements with the surrounding urban landscape. By integrating sleek lines, expansive glass facades, and dynamic structural forms, the condominium stands as an iconic landmark amidst the bustling cityscape.
One of the key highlights of this architectural marvel is its emphasis on sustainability. Zhen Architecture + Construction has employed state-of-the-art green technologies to ensure minimal environmental impact. From energy-efficient lighting systems to advanced water conservation measures, this condominium sets a benchmark for eco-friendly living. Additionally, the incorporation of green spaces, such as rooftop gardens and landscaped courtyards, not only enhances the aesthetic appeal but also promotes a healthy and tranquil living environment for the residents.
The interiors of the Bonifacio Global City Condominium exude elegance and sophistication. Each unit is meticulously designed to maximize space utilization while maintaining a sense of openness. The use of premium materials and finishes further elevates the living experience, providing a seamless blend of comfort and luxury. Residents can indulge in the breathtaking panoramic views of the city skyline, thanks to the strategically placed floor-to-ceiling windows that flood the interiors with natural light.
Zhen Architecture + Construction's Bonifacio Global City Condominium is an architectural gem that encapsulates the essence of contemporary urban living. With its sleek design, commitment to sustainability, and meticulous attention to detail, this project represents a new standard of luxury residential developments. As the studio continues to push the boundaries of architectural innovation, this condominium stands as a testament to their unwavering passion for creating spaces that inspire and uplift the human spirit.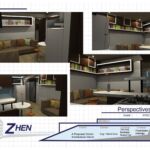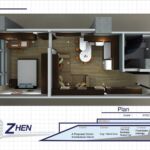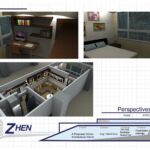 Project's associated companies