Pier 70 Waterfront Plan: Revitalizing San Francisco's Industrial Waterfront
The Pier 70 Waterfront Plan, developed by the SITELAB urban studio architectural firm, draws inspiration from the rich industrial history of the Union Iron Works National Historic District and the vibrant creative energy of the nearby Dogpatch neighborhood. This ambitious plan aims to revitalize a neglected and inaccessible industrial waterfront area into a dynamic mixed-use neighborhood that seamlessly blends creativity and history.
The design of the plan pays homage to the site's historic arrangement, which includes the craneway piers where ships were traditionally docked for repairs. By transforming this utilitarian space into a new public park, the plan not only connects the waterfront to the historic buildings but also adds texture and authenticity to the development. The design incorporates deliberate variety, contrasts of scale, and strategic sight lines that offer glimpses of the expansive waterfront, creating a rhythm of interconnected spaces and surprising moments of discovery.
At the heart of the plan lies Building 12, a historic warehouse rehabilitated as a makers' market hall, and a contemporary counterpart featuring a new dedicated arts and culture building. This "creative core" serves as a bridge between the old and the new, blending the site's industrial past with its future as a vibrant hub for creativity and innovation. To involve the community in the placemaking process, Building 12 hosted temporary events throughout the design phase, allowing visitors and neighbors to experience the site firsthand and envision its future potential.
The waterfront area also features the San Francisco Bay Trail, which connects a network of parks to the north and south. This trail not only enhances public access but also contributes to the transformation of San Francisco's southeast waterfront into a thriving public frontier. Pier 70 serves as a model for infill urban growth, unlocking public access to a new section of the city's waterfront while preserving an important piece of national industrial history.
In summary, the Pier 70 Waterfront Plan by SITELAB urban studio is a visionary project that breathes new life into a neglected industrial waterfront. By embracing the site's history and incorporating elements of creativity and authenticity, the plan creates a vibrant mixed-use neighborhood. With its interconnected spaces, strategic sight lines, and community involvement, Pier 70 represents a significant step forward in the transformation of San Francisco's southeast waterfront.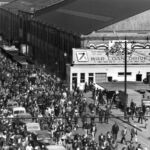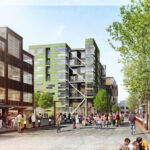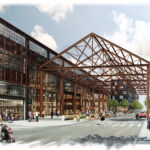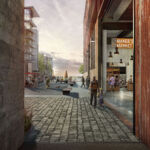 Project's associated companies