Pestalozzi 584: Harmonious Residential Complex in Narvarte
Benito Juarez, Mexico City, CDMX, Mexico
This article discusses the Pestalozzi 584 project, a residential complex consisting of four homes located in the traditional Narvarte neighborhood of Mexico City. The architectural composition of the building features two floating volumes, each housing two residences, spread across four levels with approximately 240m² of construction each. The design successfully combines exposed concrete, painted finishes, and wooden decks, creating a harmonious integration of natural and pure materials.
The development of each home is centered around inclined concrete structures that house the vertical circulation, serving as an integrating element for the entire building. The project faced a significant challenge as the plot of land only measured 300m². Despite this limitation, the design managed to create spacious and double-height spaces for each residence. The ground floor of each home includes the entrance, three parking spaces, a laundry room, and a room for domestic service. The first floor comprises a foyer, an open kitchen, a guest bathroom, and a living and dining area with a slight elevation difference in either the floor or ceiling. The second floor features a study and two bedrooms, each with its own full bathroom. The third floor includes balconies or terraces and the master bedroom with a walk-in closet and full bathroom. Additionally, each residence has a private roof garden with a barbecue area.
The façades of the building incorporate balconies finished with tropical wood decking, serving as an integrating element between the inclined concrete structures and the main volumes of the building. The common access circulation area is defined by travertine marble, while the division between the parking spaces of the different residences is achieved through bamboo walls that emerge from acid-treated sheet metal beds, creating a virtual separation of space and allowing for a complete view of the common area.
Overall, the Pestalozzi 584 project showcases a successful integration of architectural elements and materials, creating a contemporary and visually appealing residential complex in the heart of Mexico City's Narvarte neighborhood.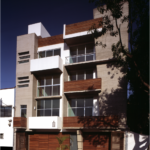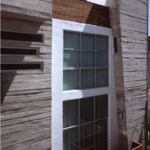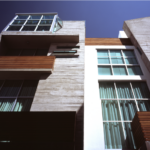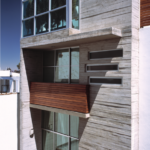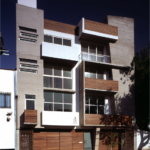 Project's associated companies