Revolutionizing Pequannock's Athletic Facilities: Track & Field Upgrades
85 Sunset Rd, Pompton Plains, NJ 07444, USA
Pequannock Public Schools recently embarked on an ambitious project to enhance the athletic facilities across the district. Spearheaded by Solutions Architecture, the district-wide master plan for site and field upgrades aimed to transform the Pequannock Township High School Fields into state-of-the-art sporting arenas. With a focus on the Varsity Football field and the adjacent track, these renovations are set to revolutionize sports activities in the area.
One of the major highlights of this project involved converting the existing Varsity Football field into a Synthetic Turf field. This upgrade will not only provide a more durable and consistent playing surface but will also significantly reduce maintenance requirements. The adjacent track was also resurfaced to ensure a safe and optimal running track for athletes. These improvements will undoubtedly elevate the overall athletic experience for students and community members alike.
In addition to the football field and track, the project also included the construction of a new synthetic turf multi-purpose field adjacent to the Varsity Field. This versatile field is designed to accommodate various sports, catering to the diverse needs and interests of the students. From soccer to lacrosse, this multi-purpose field will serve as a hub of athletic activities, fostering a sense of community and healthy competition.
To complement these field upgrades, several other enhancements were implemented. New pathways and secure gates were installed to ensure easy accessibility while maintaining a safe environment for everyone. The addition of new fencing not only adds aesthetic appeal but also provides an added layer of security. Spectators will now have the pleasure of watching the games from new grandstand bleachers, offering a comfortable and enjoyable experience. Field lighting was also installed, extending the usability of the fields well into the evening, and a new scoreboard and press box were added to enhance the overall game-day experience.
The completion of the Pequannock Public Schools Athletic Track and Field Upgrades project marks a significant milestone for the district. Thanks to the visionary work of Solutions Architecture, the athletic facilities have been transformed into modern, functional spaces that will benefit generations of students to come. These renovations not only enhance the sporting experience but also promote a sense of pride and unity within the community. Pequannock Public Schools can now proudly boast state-of-the-art athletic facilities that rival those found in much larger districts, setting a new standard for excellence in sports.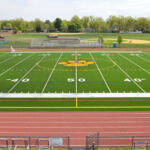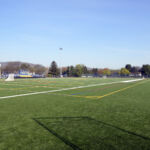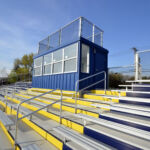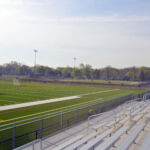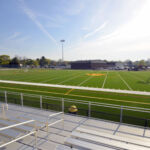 Project's associated companies