Revolutionary Ocean Township High School Performing Arts Center
550 W Park Ave, Ocean Township, NJ 07755, USA
Ocean Township High School – Performing Arts Center: A Visionary Architectural Marvel
Solutions Architecture, a renowned architectural studio, presents the awe-inspiring Ocean Township High School – Performing Arts Center, a revolutionary addition to the educational landscape. This avant-garde project aims to provide students with a state-of-the-art facility that encompasses a vibrant hub for artistic expression, creativity, and collaboration. With meticulous attention to detail and a commitment to innovative design, this architectural masterpiece sets a new benchmark for educational institutions.
Nestled amidst the picturesque coastal town of Ocean Township, the Performing Arts Center harmoniously blends with its natural surroundings while exuding a contemporary flair. The exterior facade showcases a seamless integration of glass and steel, allowing abundant natural light to permeate the interior spaces. This design choice not only creates a visually stunning structure but also promotes sustainability by reducing the reliance on artificial lighting during daylight hours. As a result, students and faculty are greeted by an inviting and uplifting atmosphere that enhances their overall learning experience.
Upon entering the Ocean Township High School – Performing Arts Center, one is immediately captivated by the grandeur of the lobby. The soaring ceilings, adorned with intricate geometric patterns, create a sense of elegance and sophistication. The open-concept layout fosters a sense of community, encouraging students and staff to interact and engage in creative conversations. The lobby seamlessly connects to various wings of the facility, including rehearsal spaces, classrooms, and performance venues. This fluidity of movement promotes a holistic approach to education, where students can effortlessly transition between academic pursuits and artistic endeavors.
The heart of the Performing Arts Center lies in its cutting-edge performance venues. Equipped with state-of-the-art audiovisual technology, these spaces cater to a wide range of artistic disciplines, from theater and dance to music and visual arts. The main auditorium, with its meticulously designed acoustics and versatile seating arrangements, ensures a truly immersive experience for both performers and audience members. Additionally, smaller, intimate studios provide the perfect setting for rehearsals and workshops, allowing students to hone their craft in an environment conducive to growth and exploration.
In collaboration with the Solutions Architecture studio, Ocean Township High School has taken a bold step towards nurturing creativity and artistic excellence within its student body. The Performing Arts Center stands as a testament to the power of architectural innovation in creating an inspiring and inclusive educational environment. By seamlessly blending functionality, sustainability, and aesthetics, this visionary project sets the stage for a new era of artistic expression and academic achievement.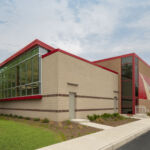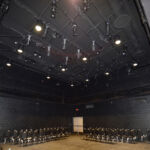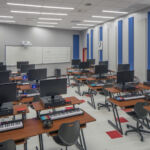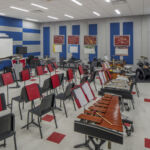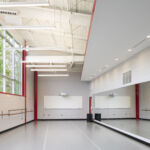 Project's associated companies