Seamless Urban-Rural Experience: Nantong Agricultural Park Service Center
Nantong, Jiangsu, China
Z-ONE Architects, a newly emerging studio specializing in experimental architectural practice in rural China, has recently completed the service buildings group at Nantong Urban Agricultural Park. Located on the northern suburb of Nantong, Jiangsu, China, the project spans a total construction area of 4552.8m² and was completed within a remarkable four-month timeframe.
In the initial stages, Z-ONE studio collaborated with the Rural East planning team to contribute to the "Gather Grain into Granary" Comprehensive Service Center, the Rural Living Room Exhibition Center, and the renovation of an existing public restroom. Given its location in the entrance area, which is a crucial space for visitors, the design had to consider the transition between urban and rural experiences while incorporating contemporary architectural vocabulary.
The primary building, known as the "Gather Grain into Granary" Comprehensive Service Center, consists of five warehouse-shaped spaces constructed using a steel-timber combined structure. These spaces house a field library, an exhibition space, a studying space, a dining area, and a multi-function hall for business activities. To create a harmonious blend of natural light and architecture, the design team strategically incorporated internal "wells of light" by intersecting the structure. Each space offers a unique perception of sunlight, allowing visitors to experience the power of nature in different layers.
Throughout the design process, the Z-ONE team made multiple revisions to reduce the complexity of the free-form surface dimensions. This approach significantly minimized the amount of special-shaped steel and wood structure, resulting in a reduction in engineering difficulties. Additionally, the team creatively solved the challenge of laying tiles on the irregular curved roof, taking into account the on-site construction conditions.
The completion of the service buildings group in Nantong Urban Agricultural Park represents a remarkable achievement for Z-ONE Architects. With their expertise in experimental architectural practice, the studio successfully created a comprehensive service center that seamlessly integrates urban and rural experiences. The innovative design, featuring the unique "wells of light" concept, provides visitors with a captivating and immersive environment that showcases the beauty of nature.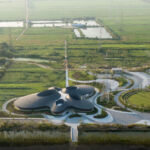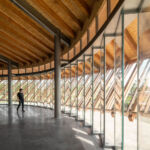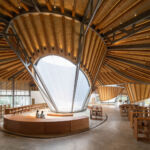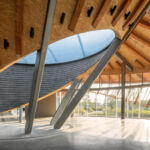 Project's associated companies