Murano Luxury Apartments: Exquisite Contemporary Living
Guaynabo, Puerto Rico
Murano Luxury Apartments: A Masterpiece in Modern Living
Elegant, sophisticated, and exuding luxury, the Murano Luxury Apartments stand as a true testament to the artistry and innovation of the Álvarez-Díaz & Villalón | Architecture & Interior Design architecture studio. Nestled in a prime location, this architectural gem redefines contemporary living, offering residents an unparalleled fusion of comfort, style, and convenience.
From the moment one sets foot into the Murano Luxury Apartments, it becomes evident that no detail has been overlooked in the pursuit of perfection. The exterior façade showcases a harmonious blend of sleek lines, grand glass windows, and striking metallic accents, creating a captivating visual impact. This design not only establishes a strong presence within the surrounding urban landscape but also maximizes natural light and views for the residents.
Stepping into the immaculately designed lobby, residents and guests are greeted with an ambiance of refined elegance. The seamless integration of high-quality materials, such as imported marble, polished wood, and exquisite lighting fixtures, creates an atmosphere that radiates opulence and sophistication. The fluidity of space design ensures a smooth transition from the lobby to the private residences, while the incorporation of lush indoor greenery adds a touch of tranquility and serenity.
The interior of each Murano Luxury Apartment is a testament to the meticulous attention to detail and the pursuit of absolute comfort. The open-concept living spaces are bathed in natural light, thanks to the floor-to-ceiling windows, offering breathtaking panoramic views of the cityscape. The carefully curated selection of premium finishes, including high-end appliances, designer fixtures, and customized cabinetry, further enhances the luxurious living experience.
Residents of the Murano Luxury Apartments also have access to an array of amenities designed to elevate their lifestyle. The state-of-the-art fitness center, complete with cutting-edge equipment, allows residents to maintain their health and wellness conveniently within the building. The meticulously landscaped rooftop terrace offers a serene retreat, providing an oasis amidst the bustling city below. Additionally, the presence of a concierge service ensures that every need and desire is met, providing a seamless living experience for all residents.
In conclusion, the Murano Luxury Apartments by the Álvarez-Díaz & Villalón | Architecture & Interior Design architecture studio redefine the concept of contemporary living. With its striking architectural design, impeccable attention to detail, and a plethora of luxurious amenities, this development stands as a testament to the studio's commitment to creating spaces that seamlessly blend functionality, aesthetics, and comfort. The Murano Luxury Apartments epitomize the epitome of modern luxury, offering residents an unparalleled living experience that is as refined as it is exclusive.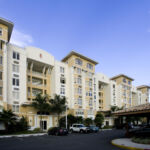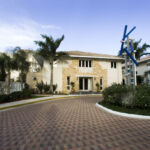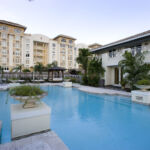 Project's associated companies