Experience Innovative Lighting at Tobin Center for Performing Arts
San Antonio, TX, USA
Transformative Lighting at Tobin Center for the Performing Arts
The Tobin Center for the Performing Arts is a unique architectural experience that draws inspiration from San Antonio's rich vernacular of color, pattern, and public celebration. The building's design is capable of continuous transformation in response to programmatic and environmental influences. Designed by LMN Architects, the Tobin Center offers a diverse range of experiences, and one of its most innovative features is the transformative lighting system.
The Main Performance Hall
The 1,768-seat main performance hall is the centerpiece of the Tobin Center. Its moveable floor system allows the room to rapidly change its seating and stage geometry. However, the true magic of the hall lies in its lighting innovations. Programmable, multi-colored LEDs embedded in the balcony fascias create a pixelated arabesque pattern, abstracted from the building's historic details. These patterns dance between traditional ornament and digital interactivity and can change the mood of the room between performances or even during a single performance.
The Restored Historic Stone Facades
The historic stone facades of the Tobin Center are illuminated to accentuate the rich detailing and materiality in the urban streetscape. The restored facades are also wrapped with a porous, shimmering metallic veil that celebrates the cultural life of contemporary San Antonio. Referencing the filigreed forms of Spanish Colonial ironwork and the filtered daylight of the River Walk landscape, the veil is comprised of digitally designed and crafted aluminum panels. The facade veil reflects the sky and captures daylight while filtering the bright South Texas sun, creating complex patterns of light and shadow.
The Festival-like Atmosphere
As night falls and the River Walk's many lighting displays transition to a festival-like atmosphere, the veil further transforms. It becomes a lighted scrim with embedded, programmable LEDs that showcase custom light arrays against the night-time skyline. The colors, intensity, and patterns of light afford the ability to create effects that range from a soft glowing candlelight ambiance for symphonic performance to complete blackout for opera and ballet and intense bursts of color for popular music acts.
In conclusion, the Tobin Center for the Performing Arts is a masterpiece of architecture that offers a transformative lighting system that can change the mood of the room and create a festival-like atmosphere. The LMN Architects have truly created an innovative building that celebrates the cultural life of contemporary San Antonio. The Tobin Center is a must-visit for anyone who appreciates art, design, and innovation.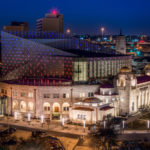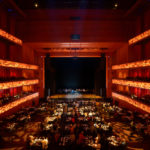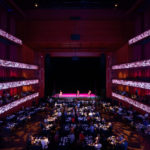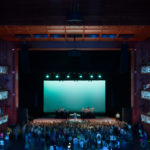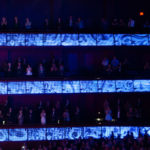 Project's associated companies