Hanyang University's Stunning Fabrication Lab: A Fusion of Creativity and Functionality
Ansan-si, Gyeonggi-do, South Korea
A remarkable transformation has taken place at Hanyang University Erica Campus in Ansan, South Korea. A former lecture room and a hall have been ingeniously converted into a state-of-the-art fabrication lab through the collaboration of design eu and Wonder Architects. This exciting project showcases the fusion of creativity and functionality, resulting in a space that is both visually striking and highly practical.
The newly established fabrication lab is divided into four distinct areas, each serving a specific purpose. The main fabrication room takes center stage, equipped with cutting-edge machinery that includes CNC milling and laser cutting tools. Two separate machine rooms house these advanced technologies, ensuring precision and efficiency in the production process. Additionally, a well-equipped photo studio caters to the documentation and promotion of the lab's creations. Lastly, a lounge area provides a versatile space for relaxation and brainstorming sessions.
Every aspect of the fabrication lab has been meticulously designed to enhance its functionality and aesthetic appeal. All the furniture in the lab is bespoke, specially created to meet the unique requirements of this innovative space. Notably, a series of steel boxes has been conceived as shelves for exhibition purposes, doubling as a visually striking featured wall. These steel boxes adhere to three simple design rules, resulting in a captivating play of light and shadow. Varying in depth, angles, and shifted combinations, these elements create a dynamic and visually engaging atmosphere within the lab.
One of the standout features of the fabrication lab is the parallelogram-shaped lounge chairs. These chairs are not only visually intriguing but also highly versatile. Their mobility allows for various configurations, enabling users to adapt the space to suit different activities and collaborations. This flexibility fosters an environment that encourages creativity and innovation, ensuring the lab serves as a hub for cutting-edge design and fabrication.
In conclusion, the collaboration between design eu and Wonder Architects has brought forth an exceptional fabrication lab at Hanyang University Erica Campus. Through their meticulous attention to detail and innovative design choices, they have transformed a former lecture room and hall into a space that seamlessly integrates functionality and aesthetics. The rhythmic steel boxes and versatile lounge chairs are just a few of the many elements that make this fabrication lab a testament to the power of design and architectural ingenuity.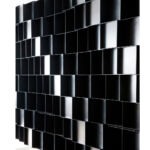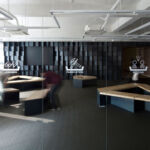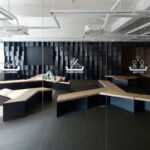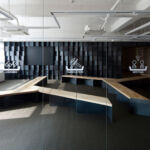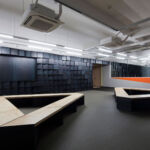 Project's associated companies