Giant Bakes Cafe: Trendy Ari District's Charming Architectural Gem
Bangkok, Thailand
The Giant Bakes Cafe, located in the trendy Ari district of Bangkok, was designed by the renowned ASWA (Architectural Studio of Work - Aholic). Situated in an upscale residential area known for its hipster hangouts, this neighborhood is a perfect fit for a selection of restaurants and cafes.
Originally an online order service, the owners of Giant Bakes decided to expand their business by opening a cafe in their own backyard. The cafe offers a delightful combination of coffee and freshly baked goods made on a daily basis. Despite the limited space available, the architects managed to create a 30 square meter cafe that stands out with its unique design.
The standout feature of the cafe is its metaphorical roof, inspired by the act of spreading chocolate cream over a cake. The roof is covered in brown asphaltic shingles, which not only give it a humble and down-to-earth appearance but also blend seamlessly with the surrounding landscape. The curved shape of the roof creates a visually appealing gable section between the front and back elevations of the building.
Inside the cafe, the architects aimed to maximize the use of space and provide visitors with a varied experience. The front of the cafe features window seatings, allowing customers to enjoy their treats while observing the bustling neighborhood. Moving further inside, there is a long counter bar and kitchen area, perfectly suited for the Pattisier to work their magic. The center of the building houses a service area for storage, while the restroom is located at the back.
The Giant Bakes Cafe project beautifully combines architectural design with functionality. The curved roof and thoughtfully designed interior spaces create a welcoming and cozy atmosphere for visitors to enjoy their coffee and freshly baked treats. ASWA's attention to detail is evident in every aspect of the cafe, from the unique roof design to the thoughtful layout of the interior. The result is a charming and visually striking cafe that perfectly complements its trendy surroundings in the Ari district of Bangkok.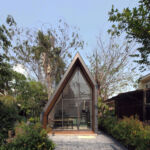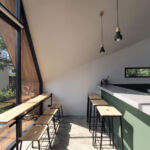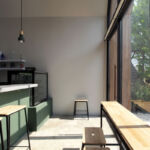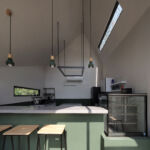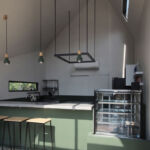 Project's associated companies