E+J Apartment: Redefining Spaces with Contemporary Design
New York, NY, USA
E+J Apartment: A Contemporary Space Redefined by K—da Architectural Studio
E+J Apartment is a stunning project by K—da Architectural Studio that challenges the standard typical layouts offered by older buildings. Situated on the 47th floor, this apartment offers breathtaking views. With the aim to redefine the spaces, the studio worked with the intracultural constraints and introduced the concept of competing volumes.
The central walnut volume is a free-standing structure that adds to the contemporary feel of the apartment. It houses the stove on the kitchen side and the bar and entertainment center on the living room side. The textured black paneling defines the secondary volume, which houses the powder room and laundry rooms. The use of strong wood and black combination adds to the elegance and sophistication of the apartment.
The renovation of the apartment has been carried out with the utmost attention to detail. The open kitchen allows more light and access to the views, making the apartment feel more spacious and inviting. The combination of materials and the introduction of the competing volumes work together to create a modern and comfortable living space.
The E+J Apartment project is a perfect example of how K—da Architectural Studio can transform an older building into a contemporary living space. The studio's attention to detail, use of materials, and innovative design ideas have resulted in a truly unique and stunning apartment that is a feast for the eyes.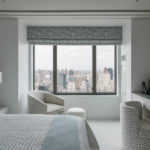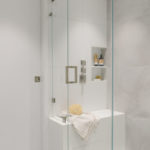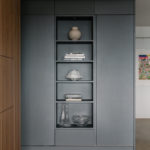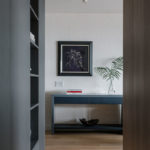 Project's associated companies