Remarkable Transformation: East 88th Street Apartment Renovation
E 88th St, New York, NY, USA
25 years ago, the clients of Billinkoff Architecture embarked on a remarkable journey to renovate their 2,000 square foot apartment near Park Avenue. Although enamored with the building and neighborhood, they felt it was time for a modern update. Eager to transform the space both in terms of organization and aesthetics, they enlisted the expertise of Billinkoff Architecture and Laura Bohn Design Associates.
The first step in this ambitious project was to strip away the original finishes, fixtures, and interior partitions from the previous renovation. In their place, a fresh and open layout was introduced. To counterbalance the low ceilings inherent in this 80's building, the architects opted for reflective terrazzo floors and indirect lighting throughout the space. The kitchen, despite being limited by the existing plumbing locations, was expanded, and the original oversized bathtub was replaced with a spacious master shower. Additionally, a previously unused balcony adjacent to the master bedroom was transformed into a walk-in closet, enclosed by a frosted glass curtain wall.
The architects also reimagined the bedrooms, replacing the original two with two customized studies tailored to the specific needs of each owner. This departure from discreet rooms painted in different colors was a deliberate choice to create a cohesive atmosphere. Bleached teak paneling, dark rift oak cabinetry, translucent glass dividers, and Venetian plaster columns all contributed to the unification of the space. The renovation also included the installation of computerized lighting and a sophisticated multimedia system.
The transformation of this apartment was nothing short of astounding. What was once a collection of small, indistinct rooms has now become a captivating and expansive space, perfectly suited to the urban lifestyle of the clients. Through the collaboration between Billinkoff Architecture and Laura Bohn Design Associates, this East 88th Street Apartment project showcases a highly textured and bright interior that exemplifies the vision and expertise of these architectural professionals.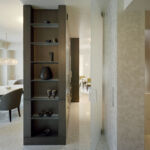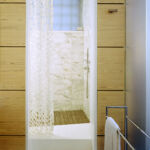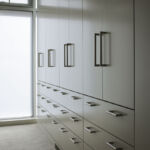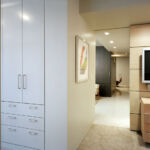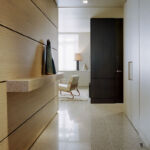 Project's associated companies