Revitalizing Del Mar College's Music Program: Phase 1 Expansion & Renovation
Corpus Christi, TX, USA
Del Mar College Music Program is set to receive a much-needed expansion and renovation with the launch of Phase 1 of a larger project. The aim is to revamp the aging facilities that currently serve the nationally-recognized program. This initial phase will focus on the construction of two recording studios, a rehearsal hall, and music laboratories and classrooms.
The existing building, which dates back to the 1950s and 1960s, was primarily oriented towards a perimeter street, distancing itself from the vibrant core of the campus. Recognizing the importance of music in the campus's cultural life, the project presents an opportunity to not only address the technical aspects but also to enhance the overall campus experience. The goal is to relocate the Music Department to the heart of the campus, improving pedestrian accessibility and creating new lively outdoor spaces.
The architectural design seamlessly harmonizes with the existing campus aesthetics, utilizing buff brick and pink cast-stone materials. To invigorate the urban campus core, a striking curved glass curtain-wall with integrated solar shading has been incorporated. This concave facade embodies the rhythmic qualities of music, adding a fresh architectural identity to the Music Department as it faces the historic heart of the campus.
Moreover, the design serves another purpose by highlighting a previously obscured north/south campus path. By boldly carving out this pathway, it not only provides an improved acoustic and visual backdrop but also contributes to the creation of a planned-impromptu amphitheater in a new courtyard to the east. This integration of architecture and landscape aims to foster a vibrant and engaging environment for students and faculty alike.
The Del Mar College Music Addition - Phase 1 project, envisioned by the esteemed Richter Architects architectural studio, is a significant step towards revitalizing the music facilities. By relocating the Music Department to the center of campus, improving pedestrian connections, and creating dynamic outdoor spaces, the project will not only enhance the technical aspects but also contribute to the overall campus experience. With its harmonious design, incorporating a curved glass curtain-wall and the use of campus materials, the new addition will provide an iconic architectural presence, reflecting the importance of music within the college community.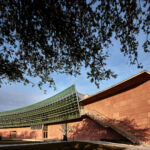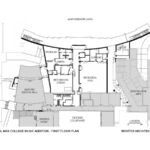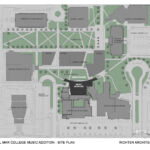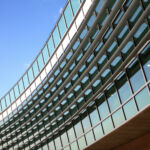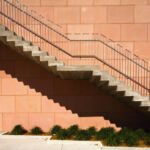 Project's associated companies