Enchanting Winter Wonderland at Bolshoi Theatre: Skan' Collection Transforms Theater Square
Moscow, Russia
The Bolshoi Theatre in Moscow has been transformed into a mesmerizing winter wonderland with the help of stunning light installations from the "Skan'" collection. Created by the talented team at Zodiak architectural studio, this Christmas lighting decoration project has truly brought the Theater Square to life.
Inspired by the traditional jewelry technique of the same name, the "Skan'" collection features a series of captivating light installations that form a magnificent ensemble. At the approaches to the fountain, six large arches-bracelets, standing at an impressive height of 6.6 meters, create a grand entrance. These arches not only showcase the beauty of the traditional Skan' technique but also add a touch of elegance to the surrounding area.
Adding to the enchanting atmosphere are five diadem benches, each with a width of 6 meters, strategically placed around the fountain. These benches not only provide a cozy spot for visitors to sit and admire the surroundings but also serve as dazzling focal points with their intricate lighting design.
The pièce de résistance of the Theater Square's Christmas decoration is the colossal Christmas ball towering at a height of 11 meters. This stunning installation captures the attention of all who pass by, radiating the joy and magic of the holiday season.
The Theater Square has quickly become one of the most popular Christmas locations in Moscow, thanks to this awe-inspiring decoration. The Zodiak architectural studio has successfully created a festive ambiance that not only highlights the Bolshoi Theatre's status as a center of Russian culture but also transports guests into a real city fairy tale.
Visitors to the Theater Square are captivated by the mesmerizing play of lights that dance and shimmer, creating a truly magical experience. The combination of the "Skan'" light installations and the grandeur of the Bolshoi Theatre makes for an unforgettable festive celebration.
In summary, the Christmas lighting decoration project for the Bolshoi Theatre, designed by the talented team at Zodiak architectural studio, has transformed the Theater Square into a breathtaking winter wonderland. The "Skan'" collection's light installations, such as the arches, benches, and the magnificent Christmas ball, have created a festive ambiance that showcases the cultural importance of the Bolshoi Theatre while immersing visitors in a magical city fairy tale.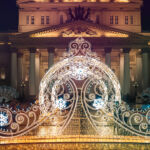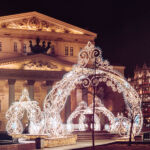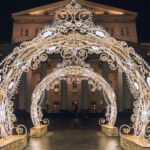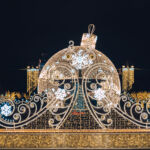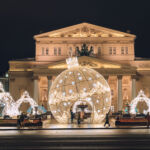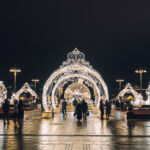 Project's associated companies