Chesa Barba Tabago: Luxurious 200-Year-Old Barn Transformation
Title: Chesa Barba Tabago: A Luxurious Transformation of a 200-Year-Old Barn into High-End Holiday Apartments in St. Moritz, Switzerland
Nestled in the world-renowned ski resort of St. Moritz - Engadin, Switzerland, the remarkable transformation of a 200-year-old barn into a high-end holiday apartment building known as Chesa Barba Tabago is a true testament to architectural brilliance. Originally functioning until 1999, the building underwent a complete refurbishment and restoration, resulting in a stunning development that offers 600 square meters of luxurious residential space across five units. With a garage capable of accommodating up to 19 cars beneath its beautifully landscaped garden, Chesa Barba Tabago promises an exceptional experience for those seeking a truly unforgettable vacation.
The project began after a brief period of closure, during which the building changed hands and underwent meticulous planning and design by the esteemed architectural studio, ||| bld arch GmbH |||. Their attention to detail and commitment to preserving the historic charm of the barn while incorporating modern amenities has led to the creation of an exquisite holiday destination.
Situated conveniently in front of the RhB station, Chesa Barba Tabago offers easy access to the breathtaking landscapes of St. Moritz - Engadin. Guests can embark on invigorating hikes, thrilling bike rides, or exhilarating ski adventures by simply hopping on a train. The convenience and proximity to nature make Chesa Barba Tabago an ideal retreat for outdoor enthusiasts and nature lovers alike.
Upon entering Chesa Barba Tabago, guests are immediately enveloped in an atmosphere of elegance and sophistication. The interior spaces are thoughtfully designed, boasting a seamless blend of traditional Alpine architecture with contemporary elements. Each of the five residential units exudes its own unique charm, providing a range of options to cater to diverse tastes and preferences.
In addition to the exceptional accommodation, Chesa Barba Tabago offers a range of amenities to ensure a truly indulgent stay. From luxurious spa facilities to state-of-the-art fitness centers, guests can relax and rejuvenate after a day of outdoor activities. The surrounding garden provides a serene setting, perfect for unwinding and taking in the stunning mountain views.
In conclusion, the remarkable transformation of the 200-year-old barn into Chesa Barba Tabago, a high-end holiday apartment building in St. Moritz - Engadin, Switzerland, stands as a testament to architectural brilliance and a celebration of the region's rich history. With its luxurious residential spaces, convenient location, and exceptional amenities, this unique retreat promises an unforgettable experience for discerning travelers seeking the perfect blend of heritage and modern comfort.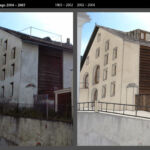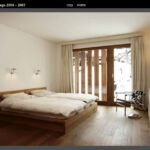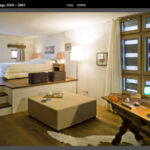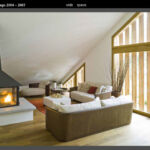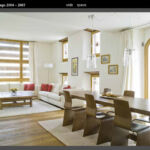 Project's associated companies