Casa Blanca North: Architectural Masterpiece with Majestic Mountain Views
Scottsdale, AZ, USA
Casa Blanca North, a stunning architectural masterpiece designed by the WORKSBUREAU architectural studio, beautifully combines design and materials against the majestic backdrop of Camelback Mountain in Arizona. This extraordinary residence consists of two wings adorned with limestone, framing a remarkable great room with panoramic glass windows that perfectly capture the breathtaking mountain vistas.
As you approach the home, the front entry walkway leads you to a captivating front garden, where light and shadow playfully dance through an intricate lattice. The use of stone and sunlight seamlessly extends into the interior, blurring the boundaries between inside and outside, a recurring theme throughout the residence. The heart of the home resides in the great room, showcased under a floating butterfly wing roof. Warmth permeates through the space, thanks to the natural wood millwork, acoustic slatted ceiling, and large format deep gray porcelain floor. Sliding glass doors effortlessly open to both the east and west sides, transforming the room into a breezeway that connects to the expansive outdoor living and dining areas, which boast an impressive 3,325 square feet of covered patio space.
The west court of Casa Blanca North features a magnificent negative edge pool and spa, complete with sunken seating and a cozy fire pit. The pool deck seamlessly integrates an outdoor kitchen and BBQ island, allowing for effortless entertaining. This outdoor oasis extends further to a sprawling lawn, providing ample space for relaxation and recreation. On the southern wing of the residence, you'll find a luxurious guest suite, a versatile fitness/flex room, and a master retreat exuding elegance at every turn. The master suite boasts thoughtful amenities, including a coffee bar, dressing rooms, and a master bathroom with a private view garden and an indoor/outdoor shower. The bedroom offers wide mountain views over a low linear fireplace, creating a captivating "reverse sunrise" glow and offering breathtaking sunsets.
The north wing of Casa Blanca North houses a spacious office with floor-to-ceiling glass windows that reach towards Camelback Mountain. The children's bedroom suites feature chevron bay windows, strategically positioned to capture the awe-inspiring views. The rec room and patio at the western end add a touch of light and entertainment, making it an ideal space for both kids and adults to enjoy.
The Casa Blanca North residence is thoughtfully integrated into its desert surroundings, seamlessly blending with the natural environment while also introducing lush textures and blooms. This architectural marvel is a testament to the harmonious union of design, materials, and nature, creating an enchanting haven where residents can immerse themselves in the beauty of their surroundings.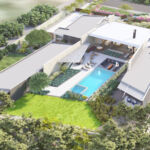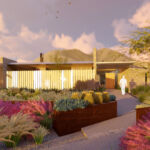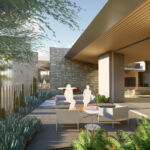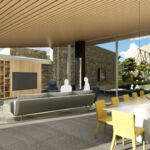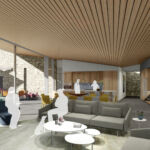 Project's associated companies