Transforming an Existing House: CASA PLONER Project by Messner Architects
39054 Klobenstein, Autonomous Province of Bolzano – South Tyrol, Italy
House for a Young Constructor: A CASA PLONER Project by Messner Architects
The CASA PLONER project, designed by Messner Architects, is an exciting endeavor that involves the partial demolition and reconstruction of an existing yet never completed house from the mid-nineties. Situated on the company's plot, this project aims to transform the space into a modern and functional dwelling that caters to the needs of a young constructor.
The conversion plan includes a comprehensive overhaul of the ground floor offices, as well as the construction of a spacious apartment spanning the first and second floors. To maximize the potential of the existing structure, the gabled roof has been removed, and all partition walls have been demolished. This has allowed for the creation of a new volume that perfectly aligns with the client's vision.
At the heart of the conceptual design lies the restructuring of the vertical plot plan. The former perron, which connected the forecourt to the first floor, has been replaced by a new interior staircase. This architectural alteration not only enhances the functionality of the space but also adds a touch of modern elegance to the overall design.
On the first floor, residents will find a well-appointed wardrobe, a kitchen with a cozy dining corner, a bathroom, a utility room, and a balcony on the south side. This balcony offers breathtaking views of the surrounding mountains and serves as a perfect spot to relax and unwind. Additionally, a second balcony, oriented towards the north and west, provides a weather shield for the office and apartment entrances on the ground floor.
Moving up to the second floor, one can discover a comfortable living room, a spacious master bedroom, a nursery, a bathroom, and a wardrobe. A wooden staircase then leads to the crowning jewel of the house - the roof-deck. This magnificent space features a canopy on its north side, providing shelter for a lounge area and a small bar. With an open view of the majestic mountains, the south-facing roof-deck ensures a truly awe-inspiring experience.
The south façade of the house is adorned with two striking stirrups that emerge from the rectangular floor plan. These architectural elements form a balcony on the first floor, a sunscreen above the living room, and a viewing pulpit on the roof deck, complete with a glazed floor panel. The design seamlessly integrates the house into the company's ensemble on its north side, while the west side remains closed off. However, towards the south side, the house opens up to reveal breathtaking views of the Dolomites.
In conclusion, the CASA PLONER project by Messner Architects showcases a brilliant transformation of an existing house into a modern and functional residence. With its emphasis on open spaces, stunning views, and meticulous attention to detail, this project exemplifies the perfect synergy between design and functionality. The young constructor is sure to find joy and satisfaction in this remarkable dwelling, which truly encapsulates the beauty of the surrounding landscape.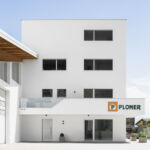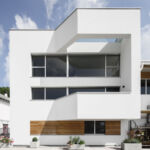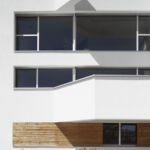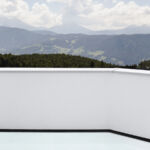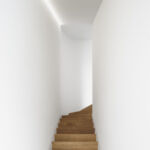 Project's associated companies