Café 10: A Captivating Blend of European Charm and Contemporary Design
Located in the 10 Dundonald condominium, the Café 10 - Coffee + Wine Bar is a European-style café/bar designed by the renowned architectural studio, Zedd Architecture. The mastermind behind this project is project architect David Yuhasz, with Darcy Robertson I.D. collaborating at Shy Architecture. This exquisite establishment offers a unique experience where the café effortlessly transforms into a wine bar with tapas during the evening hours.
One of the notable features of Café 10 is its captivating interior design. The café/bar seamlessly blends contemporary materials and design with wine-themed reproductions, creating a charming and inviting atmosphere. The fusion of traditional European aesthetics with modern architectural elements perfectly complements the modern building in which the café is situated. This juxtaposition of old and new provides patrons with an aesthetically pleasing and visually striking ambiance.
Attention to detail is evident in every aspect of the café's design. The architects paid meticulous attention to the selection of materials, finishes, lighting, and custom furniture supplied by Stylegarage, Toronto. This careful curation ensures a cohesive and stylish interior that enhances the lounge experience for visitors. From the moment one steps foot into Café 10, they are enveloped in an atmosphere that is simultaneously luxurious and cozy, inviting them to relax and indulge in the offerings of the café.
The Café 10 - Coffee + Wine Bar is more than just a place to enjoy a beverage; it is an architectural masterpiece that showcases the harmonious blend of European charm and contemporary design. Whether patrons visit in the daytime for a cup of expertly brewed coffee or in the evening for a glass of fine wine and delectable tapas, they are guaranteed a unique and memorable experience. Café 10 is a testament to the artistic vision and expertise of Zedd Architecture, creating a space that is both visually stunning and functionally exceptional.
In summary, the Café 10 - Coffee + Wine Bar, located in the 10 Dundonald condominium, is a remarkable establishment designed by Zedd Architecture. With its European-inspired interior, combining wine-themed reproductions with modern elements, the café/bar provides a captivating and inviting atmosphere. Meticulous attention to detail in the selection of materials, finishes, lighting, and custom furniture ensures a unique lounge experience for visitors. Café 10 is a testament to Zedd Architecture's talent for seamlessly blending old-world charm with contemporary design.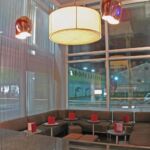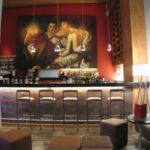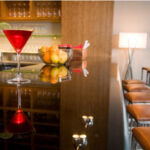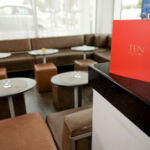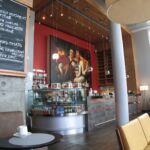 Project's associated companies