Berri Residence: Contemporary Extension for a 1940s Duplex in Montréal
Berri Residence: A Modern Extension to a 1940s Duplex in Montréal
A couple with a deep appreciation for contemporary architecture embarked on a project to extend their 1940s duplex on Berri Street in Montréal. Their primary objective was to create a vibrant dining room that would serve as the heart of their home, fostering lively family discussions and gatherings. The result is the stunning Berri Residence, a seamless blend of modern design and functional spaces.
Situated at the core of the extension, the dining room is conveniently located adjacent to the remodeled kitchen on the ground floor. Bathed in natural light, thanks to generous south-facing glazing, this inviting space features a large dining table at its center. The room effortlessly connects the family members, encouraging lively conversations and creating a warm and welcoming atmosphere.
One of the most intriguing aspects of the Berri Residence is the unique design of the master bedroom. Positioned below the dining room, it offers a captivating view of the sunken garden. The use of wood cladding in the extension imparts a sense of natural warmth, while the glass panels, pushed to their dimensional limits, enhance its lightness and transparency. The exterior finish showcases an olive green stained pine, complemented by an overhanging glazed volume adorned in galvanized steel.
The Berri Residence is a testament to the vision and creativity of the architectural studio _naturehumaine. By combining contemporary elements with the existing structure, they have transformed the duplex into a modern haven that seamlessly integrates with its surroundings. The extension not only enhances the overall functionality of the house but also adds a touch of elegance and sophistication to its aesthetic appeal.
In conclusion, the Berri Residence stands as a remarkable example of contemporary architecture in Montréal. The dining room, being the centerpiece of the extension, serves as a hub for family interactions, while the master bedroom offers a serene retreat with its captivating garden view. The innovative design choices, such as the use of wood cladding and glass panels, contribute to the extension's lightness and transparency. The Berri Residence is a testament to the couple's passion for modern design and their desire to create a space where their family can come together and create lasting memories.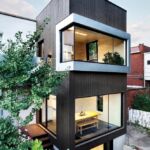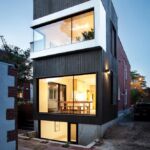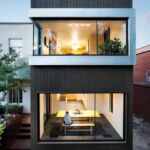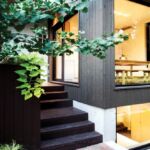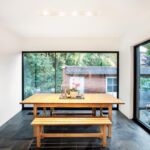 Project's associated companies