Axiom: The Future of Prefab Homes | Dwell Prefab Series
Turkel Design and Joel Turkel have been the leading architectural partners for Dwell since 2005, working together to create stunning prefabricated homes that embody the magazine's vision of modern design. This year marks a decade of collaboration, and to celebrate this milestone, we are thrilled to announce our new exclusive partnership: Dwell Prefab. This exciting venture brings forth a group of homes known as the Axiom Series, which showcases a panelized system that champions bold design, resource conservation, energy efficiency, and a streamlined building process.
The Axiom Series homes are available starting at $250 per square foot, and what sets them apart is their unwavering commitment to design excellence, quality, and construction. We firmly believe that a home should not only be aesthetically pleasing but also a haven that brings joy and comfort to its residents. Each Axiom home is thoughtfully designed to create an intuitive living space with meticulous attention to detail, ensuring a home that is both visually stunning and highly functional.
We firmly believe in the importance of resource conservation, and the Axiom Series homes reflect this value. Prefabrication significantly reduces energy consumption and construction time, while also minimizing waste. By utilizing a panelized system, we can efficiently construct these homes, making them more environmentally friendly and sustainable.
Energy efficiency is another crucial aspect of the Axiom Series homes. They are meticulously designed to be exceptionally well insulated and airtight, ensuring minimal energy consumption. Additionally, their reduced surface area and volume contribute to lower life cycle costs, making them an economically viable choice for homeowners.
At Dwell Prefab, we understand the importance of predictability in the homebuilding process. Axiom homes are designed and built against predictable benchmarks, allowing for modifications within a fixed fee structure. With our systemized design and delivery methods, these homes can be easily customized, delivered, and erected on your site with a high degree of predictability in cost, scheduling, and quality.
Lastly, we believe that a home is an investment in your future. That's why the Axiom homes are designed and fabricated to the highest standards of tomorrow. By combining innovative design, sustainable practices, and cutting-edge construction techniques, we create homes that not only meet the needs of today but also anticipate the demands of the future.
In conclusion, the Axiom Series by Dwell Prefab is a groundbreaking project that showcases the expertise of Turkel Design and Joel Turkel in creating exceptional prefabricated homes. With a focus on bold design, resource conservation, energy efficiency, and predictability, these homes offer a unique opportunity to embrace the next generation of living. Experience the future of homebuilding with Axiom, where beauty, sustainability, and functionality seamlessly blend together.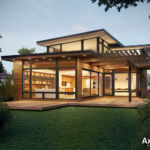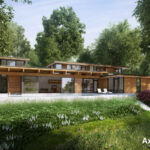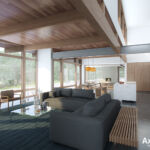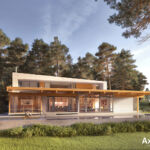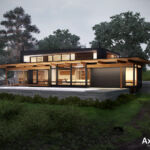 Project's associated companies