Revitalizing Art: Asheville Museum's Stunning Expansion
Asheville, NC, USA
The Asheville Art Museum, established in 1948, holds the distinction of being the third oldest art museum in North Carolina. Recognizing the need for more space and a facility that could showcase art and nurture a thriving arts culture, the museum decided to remain at its current location in the heart of downtown Asheville, rather than building outside the city for economic reasons. This decision led to a unique project that combined new construction, renovation, and historic restoration within the boundaries of existing buildings.
To bring their vision to life, the museum enlisted Ennead Architects to develop a conceptual design that would blend modern aesthetics with Asheville's rich craft traditions. The result was a striking structure that appears to suspend the permanent collection within a transparent glass case, symbolizing the museum's mission to protect and showcase significant works of art while welcoming the community to engage with them.
To turn this concept into a reality, ARCA Design was entrusted with refining and strengthening the design. They focused on improving way-finding, security, and efficiency, while also maximizing transparency in the entry facade through the use of clear structural glazing with a frit on the West elevation to control glare. Additionally, ARCA created a unique back-lit metal panel, known as the "cradle," which seemingly supports the zinc-clad permanent gallery volume. The illuminated panels not only add to the aesthetics but also invite public participation even when the museum is closed. ARCA Design served as the Architect of Record and oversaw the project from the initial schematics to its completion.
In the fall of 2019, the Asheville Art Museum expansion and renovation project was completed. The new facility boasts a 70% increase in collection gallery space and doubles the collection storage capacity. Notable additions include a new entrance atrium for patron circulation and special events, a dedicated space to display large-scale artwork, a modern gift shop and reception area, an interactive area for young children, and additional office, curatorial, and work spaces for museum staff. The project also saw the creation of a new education wing, which transformed the historic Pack Library into classrooms, an art studio, and a reference library. Lastly, a rooftop pavilion and terrace were added, providing visitors with stunning views of the Pisgah mountain range.
With the completion of this ambitious project, the Asheville Art Museum has solidified its position as a significant arts community in North Carolina. The expansion and renovation not only offers an enhanced experience for visitors but also provides a platform for artists to showcase their work, and a space for the community to come together and appreciate the power of art.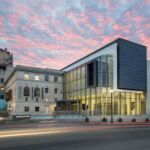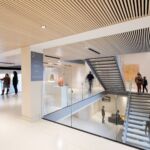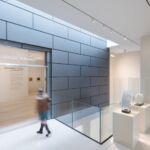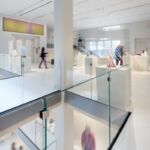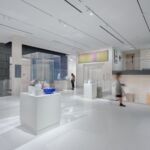 Project's associated companies