Paving the Way for a Durable, Mixed-Use City with BFV ARCHITECTES
15 Rue René Blum, 75017 Paris, France
BFV ARCHITECTES: Paving the Way for a Durable, Mixed-Use City
BFV ARCHITECTES has undertaken a major municipal project in the Clichy-Batignolles ecodistrict, an effort to address the growing need for housing while creating a durable, mixed-use 21st century city. The project required a great deal of data compilation to arrive at smart solutions for a multi-program block. The result is a cohabitation of programs that contribute to the city's growth with their high quality and symbolic significance.
Creating a Strong Architectural Response to Urban Density
BFV ARCHITECTES designed the project to provide a strong architectural response to the challenges of urban density and new environmental requirements, with collective strategies for the entire block. The residential structure incorporates horizontal and vertical paneling, evoking a glacier or rocky outcrop while giving the residence a strong sense of identity. The two housing programs were designed as parts of a larger whole, treating social housing and private housing with equal attention to materials and colors.
Social Housing and Private Residences in Cohesion
The social housing units, located at the eastern end of the parcel facing rue Cardinet, are compact and form the prow of the block. They share a patio in the middle of the block with the Ehpad senior housing, creating a coherent whole. The private residence, facing the parc Nelson Mandela and representative of the Batignolles landscape, is an inhabited prism whose physiognomy changes during the day. The 86 apartments have an unrestricted view of the park and the skyline of the Saussure block beyond, with large terraces facing the park or the gardens.
A Religious Center Anchoring the Block
At the base of the private residence, the Ozanam house is a religious center consisting of a chapel and a meeting space. The complex volumes and orange color create a striking contrast with the surrounding structures, with a cross planted in the ground signaling the entrance. The double height chapel faces the garden in the center of the block, carving out a generous sense of space from the mass of surrounding housing units.
BFV ARCHITECTES has created a mixed-use program that addresses the need for housing while paving the way for a durable, mixed-use city. The cohabitation of programs in this project represents the future of urban development, with a strong architectural response to the challenges of urban density and new environmental requirements.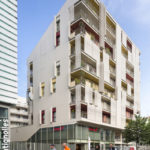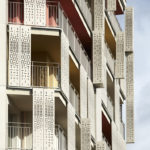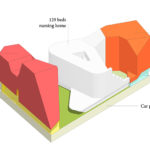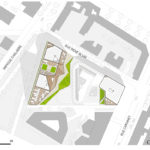 Project's associated companies