Stunning Mid-Sixties Mexican Modern Style at 203 Masaryk PH Offices
Mexico City, CDMX, Mexico
A stunning blend of mid-sixties Mexican modern style is showcased in the 203 Masaryk PH Offices project, located on the renowned Masaryk Avenue in Mexico City's upscale Polanco neighborhood. This penthouse spans an impressive 3800 square feet and exudes a retro vibe right from the entrance. The lobby sets the tone with its metallic golden walls and a striped travertine marble desk adorned with plants and three spherical lamps that transport us back in time while keeping us grounded in the present.
Upon entering the main workspace, one is greeted by a sight to behold. Striped arched windows bathe the room in natural light, accentuated by a striking striped wood wall and a crisp travertine marble floor. The space is divided into different areas, each boasting its own unique charm. On one side, two vault-like doors guard the principal office and meeting room, both featuring dark striped wood walls that beautifully contrast with the sharpness of the vein on the marble floor. A terrace adorned with carefully chosen plants acts as a buffer against the hustle and bustle of the streets below.
The main work area is accessed through a striped glass door and is centered around a grand Carrara marble table. This space is dedicated to the financial market and features a ceiling designed to support a structure for six screens that continuously broadcast financial news. Three illuminated circular lamps top structural columns, giving the illusion of floating in the air. Golden arches subtly emphasize the connection between metal value and the office's purpose, adding a conceptual touch to the space.
Private offices, each boasting a Carrara marble desk with a green lacquered metal base, can be found behind the golden arches. Privacy is maintained through the use of striped glass, which allows light to permeate the space, creating highlights and a sense of openness. Two meeting rooms equipped with large marble tables and state-of-the-art technology await collaboration and decision-making. These rooms can be connected to form a larger space through folding glass doors.
Towards the rear, a spacious dining room with the capacity of a meeting room offers a versatile space for meals and gatherings. The kitchen and services are discreetly positioned, sharing design details such as curved corners and tall wood baseboards with the rest of the office area. The furniture throughout the office was meticulously designed to meet the client's needs, creating a cohesive and functional workspace.
Lighting plays a pivotal role in achieving a cozy and domestic ambiance, strategically illuminating key areas while casting enticing shadows. The selection of materials, such as marble, wood, and metal, adds depth and texture to the design. The 203 Masaryk PH Offices project pays homage to the revival of Mexico's financial markets, reimagining objects, materials, and formal details reminiscent of a bygone era. This contemporary design encapsulates a timeless eclecticism, seamlessly blending the past and present to create a truly captivating work environment.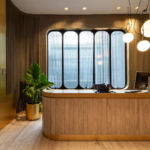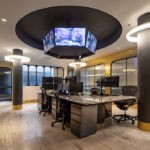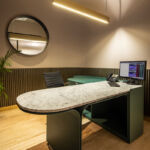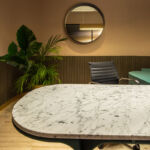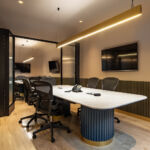 Project's associated companies