Discover Bucharest's Culinary Marvel: 14th Lane Restaurant
Bucharest, Romania
The 14th Lane project, created by the esteemed Yellow Office architectural studio, pays homage to Bucharest's first electric tram, known as tram no.14. Situated across the former power plant where the historic tram once roamed, a remarkable new building is now emerging. Nestled within this architectural marvel is a restaurant on the ground floor, bearing the name of the iconic tram lane.
Drawing inspiration from the concept of a food-court, the project has been meticulously designed to offer an array of culinary experiences. The spacious interior has been divided into various corners, each housing specialized kitchens. This thoughtful arrangement allows patrons to indulge in a wider range of gastronomic delights, seamlessly blending design and cooking.
The architectural masterpiece functions like an alveolar mechanism, with different zones opening and closing depending on the time of day. The story of "tram 14" has not only influenced the name but also the overall design of the restaurant. A tram rail has been ingeniously incorporated into the industrial floor, serving as a constant reminder of the historic significance of this space. Furthermore, technical drawings of a locomotive adorn the plywood walls, adding a touch of artistic flair and paying tribute to the rich heritage of Bucharest.
Every element of the interior has been carefully curated to provide contrasting visual and tactile experiences. The choice of materials, textures, and lighting has been executed with meticulous precision. Behind the industrial metal doors, warm-light lamps illuminate the space, creating a cozy ambiance. Terrazzo tops have been placed elegantly over wooden planks, while the metal counter is adorned with leather cladding, exuding an air of sophistication and elegance.
In summary, the 14th Lane project, brought to life by the esteemed Yellow Office architectural studio, stands as a testament to Bucharest's vibrant history and architectural heritage. The restaurant, aptly named after the first tram lane, offers a diverse range of culinary experiences within its well-designed space. With its carefully chosen materials, contrasting textures, and thoughtful design elements, this project is a true masterpiece that seamlessly combines the past with the present.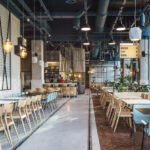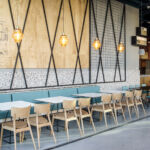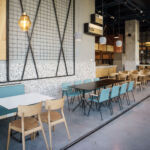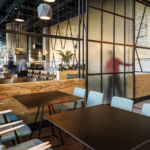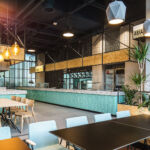 Project's associated companies