Experience Indoor-Outdoor Living with the See-Through House by Koning Eizenberg Architecture
Santa Monica, CA, USA
Introducing the See-Through House: A Unique Project by Koning Eizenberg Architecture
Koning Eizenberg Architecture, a renowned architectural studio, has designed a one-of-a-kind home that offers a seamless connection between indoor and outdoor spaces. The See-Through House is a suburban home created for a Planning Commissioner and her family. The house is situated on a typical 50'x 150' lot, but the architects have managed to create an amplified perception of space through the careful organization of expansive views.
A Barn-Shaped Roof That Brings the Countryside to the Suburbs
The See-Through House features a barn-shaped roof that emerged from tracing the maximum permitted planning envelope. This unique design choice creates a chance rural reference that perfectly fits the family's background and interest in the informal, modest, and communal. The barn-shaped roof is not only visually striking but also serves a functional purpose. It allows for an expansive view of the surrounding area, bringing the countryside to the suburbs.
Inspiration from the Past: A Quaker Bonnet Shaped Guesthouse Roof
The guesthouse is a standout feature of the See-Through House. Its roof is shaped like a Quaker bonnet, inspired by an old family portrait. The guesthouse roof serves as a backdrop to the series of indoor and outdoor spaces, adding a touch of history and tradition to the modern design. The guesthouse also offers additional privacy for the family and their guests.
Movable Screens for Added Privacy and Sun Control
The See-Through House also features movable privacy and sun control screens between the house and the yard. These screens allow the family to modify views inside and out at different times of day. The screens also provide additional privacy and sun protection, making the outdoor spaces more comfortable and enjoyable. The See-Through House is truly a unique and innovative project that showcases Koning Eizenberg Architecture's creativity and attention to detail.
In conclusion, the See-Through House is a stunning example of modern architecture that seamlessly blends indoor and outdoor spaces. The barn-shaped roof, Quaker bonnet-shaped guesthouse roof, and movable screens add unique touches to the design, making it stand out from other suburban homes. Koning Eizenberg Architecture has once again demonstrated their ability to create innovative and functional spaces that meet the needs of their clients. The See-Through House is a true masterpiece that will inspire architects and homeowners alike.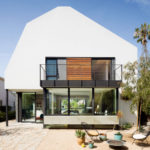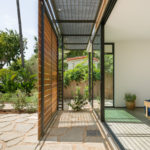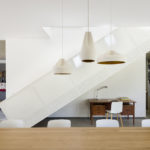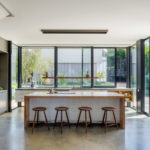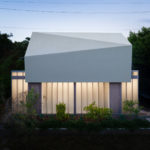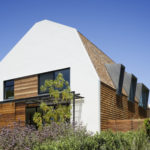 Project's associated companies