Transforming Law Firm Spaces: Sanford Heisler Sharp's Innovative Design
Washington, DC, USA
The Washington, DC office of Sanford Heisler Sharp, LLP, a law firm specializing in social justice law, has recently undergone a transformative project in collaboration with Collective Architecture. The aim of this project was to enhance the firm's ability to meet its core business goals by creating a vibrant and open office space that fosters a culture of communication. This design not only redefines the traditional concept of a law firm but also sets a workplace precedent for a new generation of lawyers.
One of the key aspects of this new design is the absence of firm hierarchy and receptionist. Instead, the office adopts a unique approach where employees take turns sitting at the front desk, promoting inclusivity and breaking down common barriers. This youthful and unconventional strategy allows for the implementation of workplace strategies that are not typically seen in traditional business settings.
The design team also sought to reinforce the firm's mission and origin through various elements incorporated throughout the office. As clients enter the office, they are greeted by an abstracted image of the women's liberation movement, symbolizing the firm's commitment to women's rights. The main café area, located just beyond the reception desk, provides multiple seating options to encourage interaction among employees and foster a sense of community.
In addition, the office features a custom art piece in the conference room, consisting of multiple grains of wood that come together to form a single element. This artwork represents the idea that "everyone comes from a different grain" and addresses current societal challenges while drawing from the firm's founding principles. By incorporating these meaningful design elements, the office space serves as a constant reminder of the firm's mission and values.
The concept of openness is also central to the office design. The hallways have been widened to allow for better circulation, while the exposed ceilings create optimal height. All exterior offices are equipped with glass returns and glass fronts to maximize natural light and create a sense of transparency. Floor-to-ceiling windows further contribute to the abundance of natural light, as well as offering views of the surrounding neighborhood.
To facilitate collaboration and privacy, a movable glass partition has been installed in the conference room. This partition not only provides additional privacy when needed but can also be opened to create a social area with pantry access. The pantry serves as a space for unplanned staff interactions, promoting a stronger sense of community among employees. Furthermore, a collaboration video display has been incorporated into the office to reinforce the firm's founding principles and encourage teamwork.
Overall, the collaboration between Sanford Heisler Sharp, LLP and Collective Architecture has resulted in a truly unique and innovative office space. With its emphasis on communication, openness, and inclusivity, this design sets a new standard for law firms and serves as a testament to the firm's commitment to social justice and women's rights.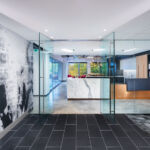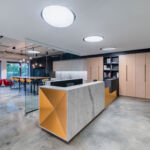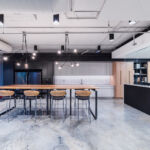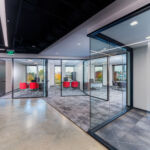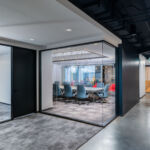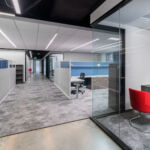 Project's associated companies